Welcome to the Teen Center at The Portland Public Library!
We have the most complete and diverse collection of new fiction for young adults and graphic novels in all of Portland. This is a place of learning and self-discovery. Our space is a place to read, watch, connect, learn, create and hang out with us – the Teen Team. We've got computers and wifi at all of our locations, as well as fun events, homework help, and programs just for you.  Ages 12-19 welcome!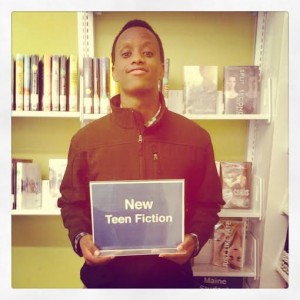 Call For Presenters: Makers @ PPL
The inaugural Makers @ PPL event is happening here on Saturday, April 25, 2015 from 11am to 4pm. The community is invited to respond to the Call for Presenters from December 1 through January 15, via this form: http://bit.ly/1vsVoFc.
Maker culture is a movement that emerged from the do-it-yourself community. This attitude that people can best learn new skills through hands on experimentation has been embraced by open source computer advocates, manufacturers looking for ways to renew interest in craftsmanship, and librarians and educators who advocate for information sharing and engagement with the STEM subjects (science, technology, engineering, math).
Community focused interaction around making has proven to be one of the best ways to incubate and develop ideas. With that, Portland Public Library is excited to announce the first Makers @ PPL event— an opportunity for people of all ages and backgrounds to come together and learn about all the creative opportunities right here in Portland.
The themed tracks of the event have a broad appeal—Creative Arts, Science & Technology, Entrepreneurship, Food & Drink, and Local History. This event is designed to expose people to a variety of topics, ideas, and new materials, and the hope is that people will not only walk away with a bag full of creations, but with a profound sense of having learned something new.
• Related Programs & Events »

After Hours
The next After Hours event will be on Friday, August 22 from 6-9.   We will be showing the movie Robocop (2014) in the Rines Auditorium. You can also eat pizza, play videogames and hang out with your neighbors at the library!  Please sign up with the librarian.  Space is limited.
The Teen Center at the Portland Public Library has video games!  If you have a library card, you can reserve a time to play on our Playstation 4 or XBOX 360.  We have two large screen TVs.  Gaming times can be reserved for one hour per patron, between the times of 1pm and 5pm. Monday through Saturday.  We also have a large collection of Nintendo 3DS and Wii games to check out as well.
The library also occasionally shows live soccer matches in our lounge.
(drawings by Justine and Sandrine)
Connect with the Library: