Welcome to the Teen Center at The Portland Public Library!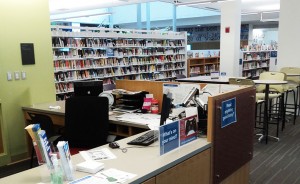 We have the most complete and diverse collection of new fiction for young adults and graphic novels in all of Portland. This is a place of learning and self-discovery. Our space is a place to read, watch, connect, learn, create and hang out with us – the Teen Team. We've got computers and wifi at all of our locations, as well as fun events, homework help, and programs just for you.  Ages 12-19 welcome!
College Search and Planning Series
January,  14 5:30-6:30
"Did you Ever Have to Make Up Your Mind" – a discussion for high school students and their parents about researching their options for after high school. Aspects of the College Search and Selection Process will be discussed, with examples presented of books and internet resources.
January 28, 5:30-6:30
"Getting In" – an approach to the College Application Process.
Timing, Testing and Effective Strategies designed to help you get accepted
to the College or University of your choice. This talk is for any high
school student and parents of high school students.
 February 11, 5:30-6:30
"Paying the Bill". Everything you wanted to know (but were
afraid to ask!) about College Financial Aid, Paying and Borrowing for
college, and finding the elusive scholarship. This talk is for parents of current high school students. Students are welcome as well.
About the Presenter: Gary Canter is a certified guidance counselor and owner of College Placement Services, a Portland Business he has run since 1996. Gary has helped thousands of high school students and their families plan for after high school, and will provide valuable and sensible explanations about the college search, selection, application and financial aid process.
Questions can be directed to Gary at (207) 772-9711 or gcanter1@maine.rr.com
Anime Club
Do you like manga and anime?   Join us every Wednesday from 2:30 to 4:30 in December and January as we watch some of the greatest animated feature films made in Japan.  We will show everything from rare classics directed by Rintaro to the latest releases by Studio Ghibli.  Please check with the Teen Librarian for the complete schedule.   For ages 13-19.
Self-Defense and Martial Arts
This series will focus on Self-Defense techniques taken from Japanese Martial Arts.  Teens will develop self discipline, confidence and a respect for the capabilities of themselves and others.   These classes will aim towards teaching you how to feel comfortable defending yourself from grabs, punches, kicks and other threatening situations.  Throughout the class, Teens will participate in regular physical training.
The Instructors:  Kimonee and Kianna have been training in Isshin Ryu Karate since 2004.  They have been teaching Martial Arts and self defense for the past 7 years.
Tuesdays from 3:30 – 4:30. Nov 26,  Dec 3, Dec 10, Dec 17.
Limited to 10.  Sign up with the librarian.
After Hours
The next event will be in February, 2014.  Date to be announced soon.   We will be serving food, playing games, giving away prizes and watching a movie.  Make friends and  hang out with your neighbors at the library!  Please sign up with the librarian.  Space is limited.
Meet our Teen Librarian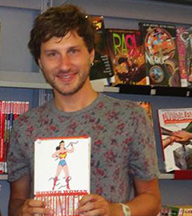 Dave Kiersh loves it when teens talk to him about books. What have you read lately?  His favorite author is Christopher Pike.  Dave also likes to draw comics. What do you like to do?  Stop by and say hello.
Connect with the Library: