Welcome to the Teen Center at The Portland Public Library!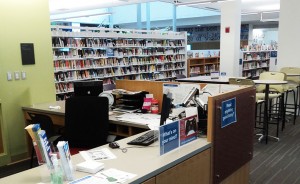 We have the most complete and diverse collection of new fiction for young adults and graphic novels in all of Portland. This is a place of learning and self-discovery. Our space is a place to read, watch, connect, learn, create and hang out with us – the Teen Team. We've got computers and wifi at all of our locations, as well as fun events, homework help, and programs just for you.  Ages 12-19 welcome!
Summer Reading Raffle
Have you read a good book this summer?  Email a review to the librarian: kiersh@portland.lib.me.us
You will be entered into our weekly and monthly raffles for a chance to win candy, movie tickets or a gift card.
September Writing Workshop
Thursdays 3:45-5pm, September 11 – October 2.
"FIRST PERSON SQUARED"
In this four-week writing course for teens aged 12-19, we'll explore the basics, challenges and joys of inhabiting a character. Like the best writers, we'll pluck these characters directly from the rich tapestry of our own lives. By employing some techniques of interviewing, direct observation, and creative narration, we'll tell the first-person stories of the first people we . . . (loved/ lost/ hurt/ forgave/ roomed with/ lied to/ saw in swaddling clothes/ beat in a foot race).
Workshop limited to 12 students (registration encouraged).

After Hours
The next After Hours event will be on Friday, August 22 from 6-9.   We will be showing the movie Robocop (2014) in the Rines Auditorium. You can also eat pizza, play videogames and hang out with your neighbors at the library!  Please sign up with the librarian.  Space is limited.
Meet our Teen Librarian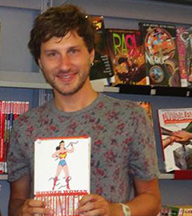 Dave Kiersh loves it when teens talk to him about books. What have you read lately?  His favorite author is Christopher Pike.  Dave also likes to draw comics. What do you like to do?  Stop by and say hello.
From the PPL blog:
FLASH book sale
PPL will hold a FLASH book sale on Saturday, July 29 from 9 am - noon at 1000 Riverside Street.
More
»
Connect with the Library: