Welcome to the Teen Center at The Portland Public Library!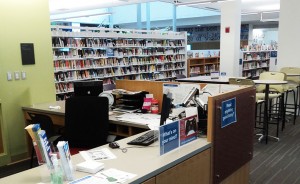 We have the most complete and diverse collection of new fiction for young adults and graphic novels in all of Portland. This is a place of learning and self-discovery. Our space is a place to read, watch, connect, learn, create and hang out with us – the Teen Team. We've got computers and wifi at all of our locations, as well as fun events, homework help, and programs just for you.  Ages 12-19 welcome!
Prepare for a Summer Job
May 14th from 3-4: Learn how to create an impressive resume using our Optimal Resume tool.
May 21st from 5:30 to 6:30: Learn how to obtain and fill out a job application and what to do when preparing for an interview.
World Cup Fever
Watch the games leading up to this summer's World Cup.  Games will be shown in the Teen Lounge starting in June and the finals will be shown in the Auditorium this July.
Letter Writing Workshop for Girls (Ages 12-19)
Wednesday, April 2nd, 9th, 16th and the 23rd @ 4:15
Each week, we'll explore a different mode of letter-writing in our one-hour, snack-filled time together. Some of the letters will be fit to drop in the mail to loved ones near and far; others of them we'll never show a soul, so full of secrets they will be! Some of them we would need a time-machine to send. And for others, we'd need to step into a fictional world to find the right mailbox. Snacks and supplies will be provided. All you need to do is sign up and show up!
Self-Defense and Martial Arts
This series will focus on Self-Defense techniques taken from Japanese Martial Arts.  Teens will develop self discipline, confidence and a respect for the capabilities of themselves and others.   These classes will aim towards teaching you how to feel comfortable defending yourself from grabs, punches, kicks and other threatening situations.  Throughout the class, Teens will participate in regular physical training.
The Instructors:  Kimonee and Kianna have been training in Isshin Ryu Karate since 2004.  They have been teaching Martial Arts and self defense for the past 7 years.
Tuesdays in May from 2:45 to 3:45. 
After Hours
The next After Hours event will be on Friday, June 6th from 6-9.   We will be showing the movie Ride Along. You can also eat pizza, play videogames and hang out with your neighbors at the library!  Please sign up with the librarian.  Space is limited.
Meet our Teen Librarian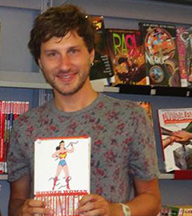 Dave Kiersh loves it when teens talk to him about books. What have you read lately?  His favorite author is Christopher Pike.  Dave also likes to draw comics. What do you like to do?  Stop by and say hello.
Connect with the Library: