Welcome to the Teen Center at The Portland Public Library!
We have the most complete and diverse collection of new fiction for young adults and graphic novels in all of Portland. This is a place of learning and self-discovery. Our space is a place to read, watch, connect, learn, create and hang out with us – the Teen Team. We've got computers and wifi at all of our locations, as well as fun events, homework help, and programs just for you.  Ages 12-19 welcome!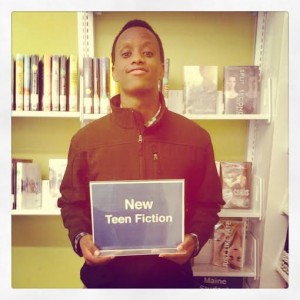 Announcing Portland's first maker fair!
Makers@PPL is the first local event to celebrate maker culture, and bring together the talents and creativity in the community to share ideas and projects with others. Mark the day on your calendar– Saturday, April 25, 11 to 4– and come ready to learn new skills, experiment with tools and materials, and observe stuff used in ways you never thought possible! Regardless of your background or expertise, this event will show you that everyone is a maker; after all, humans have been inventing and experimenting for hundreds of years.
Makers@PPL will highlight the importance of the STEM subjects (science, technology, engineering, math), and will showcase workshops and presentations that not only teach, but are fun and engaging. Think: robots, flying helicopters, cheese tastings, blacksmithing, table saw trainings, and so much more.
No registration is required. Stay tuned for more information as we get closer to the date.
Please note that we are still looking for supporters, we have sponsorships at all levels. Please contact Samantha, the event organizer for more information: soucy@portlandpubliclibrary.org.
Learn More »
The Library is pleased to partner with Cornerstones of Science to offer monthly Science Cafes on a wide range of issues and topics of interest to our community.
Learn More »
NEXT EVENT: WILD HEARTS CAN'T BE BROKEN. Share poems of love or heartbreak on Friday the 13th (2.13.15)! At Poetry Aloud, PPL's community takes to the microphone to share favorite poetry by published poets. (Think Dickinson, think Dove, or think differently!) Each spring, summer, fall, and winter, poetry lovers gather at the Main Library for an evening of simply reading aloud and listening to others read. Join us each season to share.
Learn More »
The inaugural Makers @ PPL event is happening here on Saturday, April 25, 2015 from 11am to 4pm. The community is invited to respond to the Call for Presenters!
Learn More »
After Hours
The next After Hours event will be on Friday, August 22 from 6-9.   We will be showing the movie Robocop (2014) in the Rines Auditorium. You can also eat pizza, play videogames and hang out with your neighbors at the library!  Please sign up with the librarian.  Space is limited.
The Teen Center at the Portland Public Library has video games!  If you have a library card, you can reserve a time to play on our Playstation 4 or XBOX 360.  We have two large screen TVs.  Gaming times can be reserved for one hour per patron, between the times of 1pm and 5pm. Monday through Saturday.  We also have a large collection of Nintendo 3DS and Wii games to check out as well.
The library also occasionally shows live soccer matches in our lounge.
(drawings by Justine and Sandrine)
Connect with the Library: