Welcome to the Teen Center at The Portland Public Library!
We have the most complete and diverse collection of new fiction for young adults and graphic novels in all of Portland. This is a place of learning and self-discovery. Our space is a place to read, watch, connect, learn, create and hang out with us – the Teen Team. We've got computers and wifi at all of our locations, as well as fun events, homework help, and programs just for you.  Ages 12-19 welcome!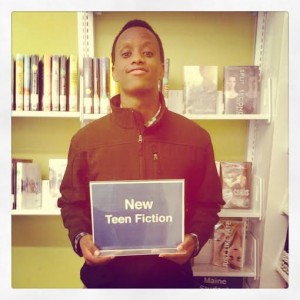 International Games Day
International Games Day @ Portland Public Library is a celebration of games, play, libraries, and learning that any library in the world can join.  This is literally a world-wide event, with libraries on all seven continents participating (including Antarctica!). Here in Portland, it is a true community event, and a great way to spark conversations about the importance, power, and diversity of Portland's people. 
We will have four rooms reserved for gaming, each with a special purpose—one for card games, another for board games, and another for video gaming. The assortment of games is appropriate for all ages—ranging from Mancala, Scrabble, Yahtzee, Pictionary, Candyland, to Trivial Pursuit. There will be a special library version of jenga, and other fun surprises.
Also—come use one of the library's laptops to participate in the international Minecraft Hunger Games tournament.
Save the date! This year's International Games Day is happening on Saturday, November 15, from 11am to 4pm.
After Hours
The next After Hours event will be on Friday, August 22 from 6-9.   We will be showing the movie Robocop (2014) in the Rines Auditorium. You can also eat pizza, play videogames and hang out with your neighbors at the library!  Please sign up with the librarian.  Space is limited.
The Teen Center at the Portland Public Library has video games!  If you have a library card, you can reserve a time to play on our Playstation 4 or XBOX 360.  We have two large screen TVs.  Gaming times can be reserved for one hour per patron, between the times of 1pm and 5pm. Monday through Saturday.  We also have a large collection of Nintendo 3DS and Wii games to check out as well.
The library also occasionally shows live soccer matches in our lounge.
(drawings by Justine and Sandrine)
Connect with the Library: