S. Donald Sussman Teen Library

Welcome to the Teen Library! We've got a welcoming, casual space just for you — 13-18 year olds — with computers, study rooms, games, and a collection of almost 8,000 books, graphic novels, videogames, movies, music, and much more, located in the center of the Main Library.
Meet our Teen Librarian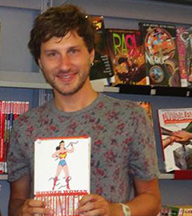 Dave Kiersh loves it when teens talk to him about books. What have you read lately? He also enjoys drawing comic books and long distance running. What do you like to do? Dave believes the library can be a great place for self-education and discovery. Stop by and say Hello.
Stop by or check out all of our Teen Services.