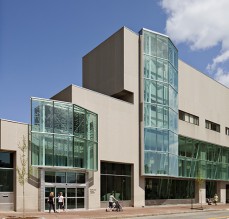 Toddler Story Time at Riverton
10:00am - 10:45am
Location: Riverton Branch
Audience: Kids & Families
Our friend Phyllis will lead us in song and dance. We'll hear a short story or two, roll the ball & "ring around the rosie." Come see what your toddler can do!
Tales for Twos
10:30am - 11:00am
Location: Main Library, Sam L. Cohen Children's Library
Audience: Kids & Families
2 year olds and their parents/caregivers are invited to join the fun at this story time. This program features stories, songs, fingerplays, & movement activities. These promote language development, pre-literacy skills and an enjoyment of reading.
Health Insurance Assistance
10:30am - 12:30pm
Location: Main Library
Audience: Adults, Seniors
Unsure about the Affordable Care Act? Need to know how it affects you? Thinking about signing up for insurance? Need help? Meet with a Health Insurance Marketplace Navigator. In partnership with Mercy Hospital and Portland Community Health Center.
Previous
Next
:
Filter Programs & Events:
Connect with the Library: