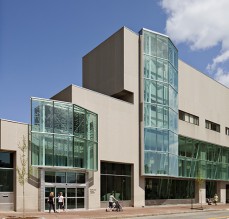 Preschool Story Time
10:30am - 11:00am
Location: Main Library, Sam L. Cohen Children's Library
Audience: Kids & Families
Come and enjoy this interactive story time for 3 - 5 year olds and their parents/caregivers. It is a program of songs, finger rhymes, chants, movement and picture books. The activities promote language development and pre-literacy skills.
Page to Stage: "Papermaker" by Monica Wood »
12:00pm - 1:00pm
Location: Main Library
Audience: Adults
Portland Public Library continues the "Page to Stage" discussion series in partnership with Portland Stage on Tuesday, April 28th in the Rines Auditorium with a conversation about "Papermaker" by local author Monica Wood.
Speak About It »
7:00pm - 8:30pm
Location: Main Library
Audience: Adults
Speak About It is a performance-based presentation about consent education and sexual assault prevention. Join us for the annual community performance in observance of of Sexual Assault Awareness Month.
Previous
Next
:
Filter Programs & Events:
Connect with the Library: