Connect with the Library:
eBooks, eAudiobooks, streaming music and movies, and eReaders
cloudLibrary
Download popular eBooks
for free to your phone or tablet from cloudLibrary. This service is offered in partnership with other Maine libraries, but some content is exclusively available to Portland Public Library cardholders.
Follow these instructions to get started on your device: iPhone/iPad, Android (including Nook HD), or Kindle Fire.
hoopla
Introducing hoopla,  PPL's newest digital borrowing platform that allows you to stream movies, television, music and audiobooks for free!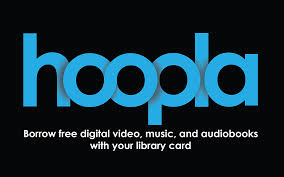 Choose from thousands of Hollywood blockbusters, best selling authors and music artists and from an extensive catalog of educational materials, children's titles, foreign films, and hard-to-find content.
hoopla is a division of Midwest Tape, a trusted name in the library world of audiotapes, movies and music. We selected their product for ease of use and the breadth of their content.
Have your Portland Public Library card handy and go to hoopladigital.com. Click on the Login button and follow their simple sign-up process.
If you want hoopla on the go, you can install their free mobile app on your iOS, Android device, or Kindle Fire HDX. Download from the Apple Store, Google Play, or Amazon.
That's it! Once you sign in, you are set to begin borrowing. You can borrow up to 4 items per month. Loan periods vary depending on format — audiobooks for 21 days, movie and TV titles for 3 days, and music titles for 7 days. Try hoopla and let us know what you think!
Follow these instructions to get started.
"Always Available" eBooks
You can also download eBooks, for free and without due dates, that are out-of-copyright or "public domain" from these sources:
Try out eBooks on a PPL Nook eReader!
Try out the digital reading experience on one of PPL's Nook Simple Touch eReaders that are pre-loaded with popular books and are available for the usual 3-week loan period. Choose the pre-loaded Nook that suits you – popular fiction, teen bestsellers, current science & nature titles, kid favorites & award-winners.
Les livres electroniques en francais!
La biblotheque a deux lecteurs de livres electroniques (Nook Simple Touch) avec plus de vingt livres electroniques en francais pour les francophones ou bien pour ceux qui aiment la langue francaise.
On peut les emprunter pour trois semaines (exactement comme les livres imprimes).