Related Items
Connect with the Library:
Bowdoin Community Concert
Saturday, July 27 - 11:00am - 11:45am
Location: Lewis Gallery
Audience: Adults, Seniors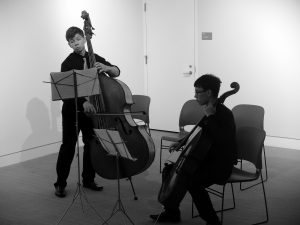 Students engage with various audiences in non-traditional venues such as coastal resorts, libraries, community centers, care centers, museums, and breweries. Through these opportunities students widen their reach and identify entrepreneurial ways to interact and grow through music. Concerts feature a variety of traditional classical repertoire and are typically 45 minutes in length. Please join us!
For more information regarding the Community Concert Series or the Bowdoin International Music Festival, please click here.