Related Items
Connect with the Library:
Challenges and Choices in a Changing Arctic
Wednesday, February 10 - 12:00pm - 1:00pm
Location:
Audience: Adults
Connect with Zoom: https://networkmaine.zoom.us/j/83273985191?pwd=eXFNMHliOXNPWDk0V2JRWFZtZUNPUT09
This illustrated lecture will highlight some of the opportunities and challenges faced by Inuit of the North American Arctic by
the interplay of global warming, development initiatives, and the region's long history of colonialism.
Susan Kaplan is Professor of Anthropology and Director of the Peary-MacMillan Arctic Museum and Arctic Studies Center at Bowdoin College. An Arctic anthropologist and archaeologist, she studies prehistoric and historic Inuit cultures, the history of Arctic exploration, and material culture. She is particularly interested in Inuit responses to environmental change and contact with Western cultures. She has conducted fieldwork in northern Labrador (Nunatsiavut), Canada, for over 35 years, and archaeological, archival, and museological projects have taken her to Alaska, northeastern Ellesmere Island, and Newfoundland as well.
About the Series » Camden Conference Community Events @ PPL
Portland Public Library will once again host Community events with speakers and presenters from the 2021 Camden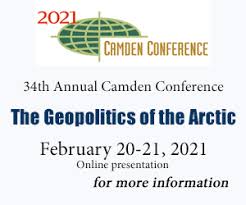 Conference.  Join us (virtually) for these informative and engaging events.
The 2021 Camden Conference will explore the Arctic, one of the world's least-known regions. The Arctic already is undergoing dramatic, irreversible changes traceable to global warming, and as these changes impact the pace of climate change, they forewarn of the challenges ahead for human, animal and plant habitats in this and other regions.
We will examine how this transformation of the Arctic is creating a new arena for global power and competition. With the retreating ice mass will come new opportunities to pursue exploration and extraction of vast resources. Will there be unregulated competition, or cooperation among governments and industries? What kinds of security challenges will come with ice-free borders? The territories of eight nations extend into the Arctic, but others —especially China— will assert rights of access and passage. Open waters will make shipping between Pacific and Atlantic ports much cheaper. What could all this mean for Maine with its accessible northern ports, maritime industry, and vulnerable location on a rising ocean?
Please plan to join us on this voyage into the future of global affairs in the Arctic and our planet.