Connect with the Library:
Classics of Horror: The Crow
Thursday, October 31 - 6:30pm - 8:15pm
Location: Rines Auditorium
Audience: Adults, Seniors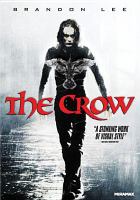 On the eve of Halloween, Eric Draven returns from the dead to avenge the murder of himself and his beloved. Based on the graphic novel by James O'Barr, the cinematography (by Dariusz Wolski) captures the feel of the comic book world. Star Brandon Lee was accidentally killed during the making of this film, a fact that makes his character's return from the dead all the more poignant.
About the Series » Private: Classics of Horror: Films for Halloween
The Library presents a series of classic horror films on Thursday nights in October, at 6:30 in the Rines Auditorium. Free and open to the public. Refreshments provided