Related Items
Connect with the Library:
Community Read: Parable of the Talents
Thursday | March 02, 2023
6:00pm - 7:00pm
Location: Downtown Library
Audience: Adults, Teens, Seniors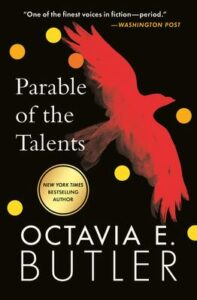 Join us in discussion about Parable of the Talents, Octavia Butler's sequel to Parable of the Sower. 
Registration is encouraged but is not required. Register here >>
There are many options to borrow the book:
Please contact Becca Starr, starr@portlib.org, if you'd like assistance securing a copy.
Back Cove Books also has copies in stock for purchase.
About Parable of the Talents
Originally published in 1998, this prescient novel's timely message of hope and resistance in the face of fanaticism is more relevant than ever. In 2032, Lauren Olamina has survived the destruction of her home and family, and realized her vision of a peaceful community in northern California based on her newly founded faith, Earthseed. The fledgling community provides refuge for outcasts facing persecution after the election of an ultra-conservative president who vows to "make America great again." In an increasingly divided and dangerous nation, Lauren's subversive colony — a minority religious faction led by a young Black woman–becomes a target for President Jarret's reign of terror and oppression. Years later, Asha Vere reads the journals of a mother she never knew, Lauren Olamina. As she searches for answers about her own past, she also struggles to reconcile with the legacy of a mother caught between her duty to her chosen family and her calling to lead humankind into a better future.
About the Series » Community Read: Parable of the Sower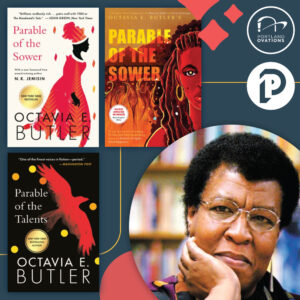 Join Portland Ovations and the Portland Public Library as we embark on a four-part exploration of Octavia E. Butler's Parable series. Each month, we will dive into these landmark works of Afrofuturism, led by local facilitators.
About the Parable of the Sower Opera
On April 14, 2023, Indigo Arts Alliance and Portland Ovations, in association with Bowdoin College, present Octavia E. Butler's Parable of the Sower, created by Toshi Reagon and Bernice Johnson Reagon, at Merrill Auditorium.
Participants in all four parts of the Community Read series will receive a complimentary ticket to the performance.
All that you touch you change. All that you change changes you. Based on the landmark sci-fi novels by Afrofuturist author Octavia E. Butler, Parable of the Sower is a genre-defying, modern congregational opera that celebrates two centuries of Black music. Written by Toshi Reagon and Bernice Johnson Reagon, Parable chronicles the spiritual awakening of Lauren Olamina amidst an America plagued by the products of unrelenting greed, systemic injustice and climate change denial. With an ensemble of more than 20 musicians, Parable transforms the operatic form, fusing African-American spiritualism, deep insights into gender and race, and climate activism into a new musical experience that thrills and inspires.
Learn more at portlandovations.org