Related Items
Connect with the Library:
Continuing the Conversation…About Dying and Death (via Zoom)
Wednesday, May 27 - 4:00pm - 5:00pm
Location: Peaks Island Branch
Audience: Adults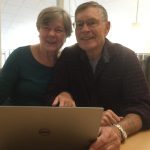 Death is a fact of life that most of us are reluctant to talk about. But if we create a safe space, we can share experiences, learn from one another, and be better prepared for a loved one's dying…and our own. We invite you to continue this conversation, which was initially begun with the screening of Consider the Conversation: a documentary on a taboo subject in 2016. This group will be facilitated by Peaks Island residents, Joy Mills and Buck Benedict.
Joy is a retired Episcopal priest and pastoral psychotherapist. She has experience helping people with dying and grieving. Buck spent 16 years teaching public speaking at the University of Pennsylvania where he encouraged people to be vulnerable enough to speak their truth, tell their stories. Both Buck and Joy have extensive experience leading workshops.
For details to join this Zoom meeting contact peaks@portlib.org