Related Items
Connect with the Library:
Sustainability Series: One Climate Future, Charting a Course for Portland and South Portland
Wednesday | December 02, 2020
5:30pm - 7:00pm
Location: Zoom
Audience: Adults
Normally held the fourth Wednesday of the month, the November edition of the series has been moved to the first week of December due to the Thanksgiving holiday.

Our businesses, neighborhoods, and way of life are worth protecting. Knowing our future will be impacted by climate change, we must collectively work to ensure that our communities continue to be places of opportunity. The Cities of Portland and South Portland are taking the lead on this by developing a joint climate action and adaptation plan – One Climate Future: Charting a Course for Portland and South Portland. The goal of this planning process is to make our communities even stronger tomorrow than we are today.
Together, Portland and South Portland work to be inclusive, vibrant communities that provide opportunities for residents and businesses to thrive in a changing climate. Join us on Wednesday, December 2nd at 5:30pm via Zoom at https://networkmaine.zoom.us/j/86410983730?pwd=UVduaTlxaWRoYU15Q1hFVWU0ZVNZQT09 to learn more about the One Climate Future: Charting a Course for Portland and South Portland initiative from Troy Moon, Sustainability Coordinator for the City of Portland. See below for more details about Zoom*.
About the Speaker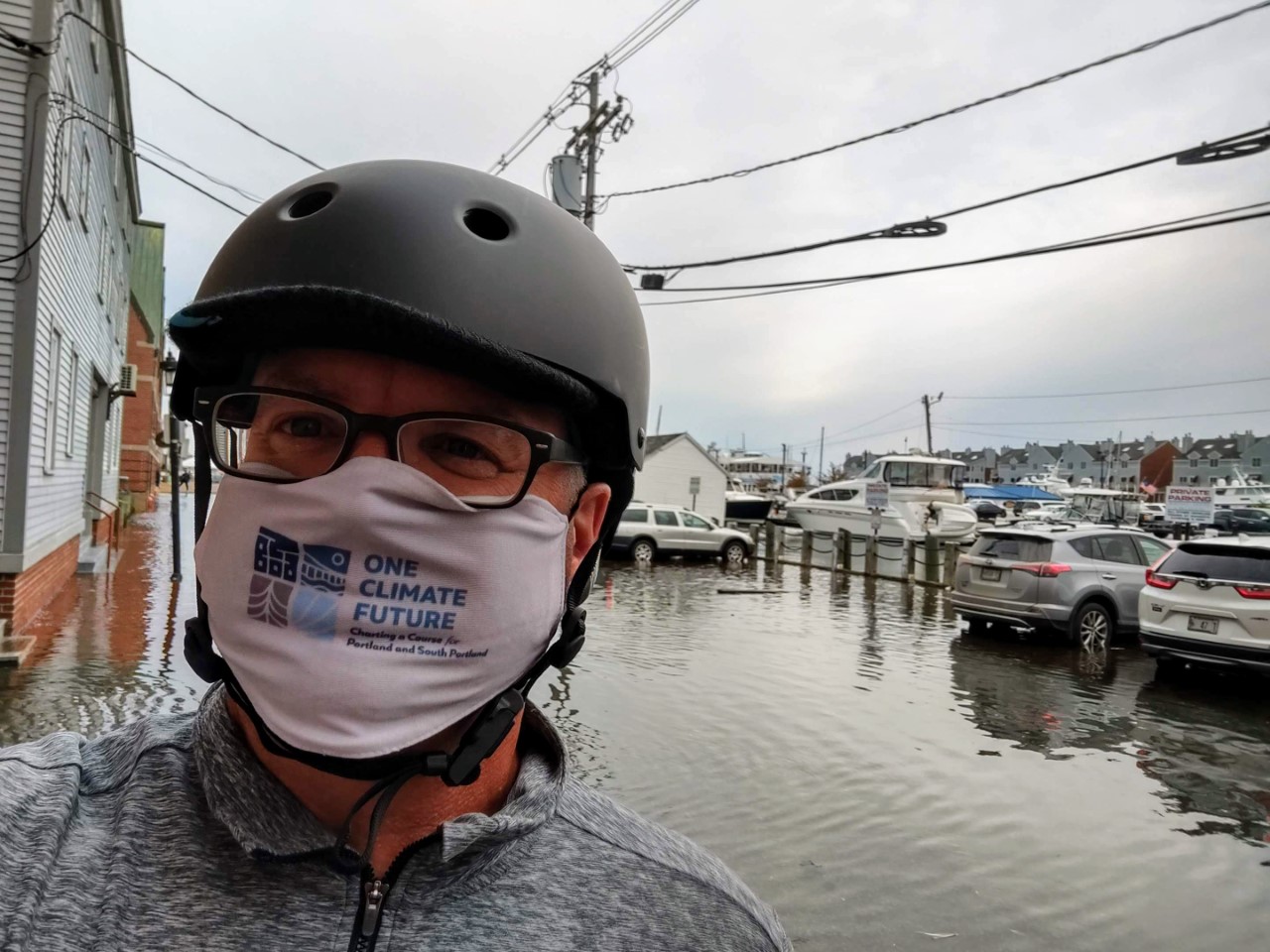 Troy Moon is the Sustainability Coordinator for the City of Portland. Troy started his career with the City of Portland in January, 1997 in the Department of Public Works working on improvements to the solid waste program. One of his first initiatives was helping to implement the curbside recycling and "pay as you throw" trash collection programs that began in 1999. During his time in Public Works he managed several programs including Solid Waste, Parks and Open Spaces, and Island Services but sustainability was always an important aspect of his work. This included promoting waste reduction and recycling, supporting community gardens, reducing pesticide use on City property, and climate action. Troy worked with interns on the City's first greenhouse gas inventories in 2001 and 2005, and collaborated with a team of City and School staff to draft the Municipal Climate Action Plan in 2008.
In 2016, Troy moved to the Executive Department and took on the role of Sustainability Coordinator. This has allowed him to focus attention on some high impact projects that advance the sustainability goals established by the City Council — reducing the City's greenhouse gas emissions 80% by 2050 and running the City on 100% clean energy by 2040. A few recent projects include overseeing the distribution of recycling carts to residents, managing construction of the Ocean Avenue Solar Array, and managing the conversion of the City's streetlights to LED. He is excited to be co-leading a climate action planning process with his colleague Julie Rosenbach, Sustainability Director in South Portland. Their goal will be to develop a strategy to keep our communities vibrant and livable in the face of rising seas and a changing climate.
---
*Full Zoom Info:
You will find yourself in a waiting room when you first enter the Zoom gathering. If you arrive early, you will remain in the waiting room until the host admits you to the program.
You are welcome to have your video on or off for this program – your choice! Please be aware, however, that all other participants will be able to see you if your video is on, and this program will be recorded. By entering into the Zoom program, you are agreeing to have your image captured and shared by Portland Public Library.
All microphones will be automatically muted by the host. If you would like to participate in the Q&A, you can send your question to the host via Zoom's chat feature. Speaker view is the best way to view this program.
Join Zoom Meeting
https://networkmaine.zoom.us/j/86410983730?pwd=UVduaTlxaWRoYU15Q1hFVWU0ZVNZQT09
Meeting ID
864 1098 3730
Password
341119
One tap mobile
+16468769923,,86410983730#
Dial by your location
+1 646 876 9923
About the Series » Portland's Sustainability Series: Leading conversations on Maine's changing climate
Portland's Sustainability Series is co-hosted by the Portland Public Library and the Southern Maine Conservation Collaborative. Sustainability is the endurance of systems and processes through time. The Portland Sustainability Series presents a diversity of speakers to share different aspects of the work moving Maine to greater endurance and sustainability. Please join us as we engage in these important issues and conversations!
In partnership with: