Related Items
Connect with the Library:
Discomfort and Renewal: Decolonizing the Abbe Museum
Wednesday, October 23 - 5:30pm - 7:00pm
Location: Rines Auditorium
Audience: Adults
Join guest speaker Starr Kelly, Curator of Education at the Abbe Museum as she shares her thoughts on how museums can address the wrongs of the past and pave the way for a more equitable future.
The Abbe Museum in Bar Harbor, Maine, showcases the history and cultures of Maine's Native people, the Wabanaki, through changing exhibitions, special events, education workshops, archaeology field schools and craft workshops for children and adults. To do this, the Abbe works directly with Wabanaki communities to center Indigenous voices – a practice that is all too rare among cultural organizations past and present.
Aiming to change this, in 2018 the Abbe launched the Museum Decolonization Institute (MuseDI), a national center and inquiry-based institution focused on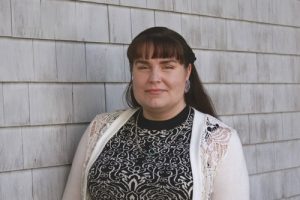 educating practitioners on decolonizing public approaches to documenting and interpreting Native American history and experiences.
The Abbe has been undergoing its own decolonizing efforts, and through this have seen a need, and an opportunity, to include other organizations in our journey. The practice of decolonizing museums is relatively emergent, but also essential. The colonial legacies of museum practices continue to do harm. The goal of MuseDI is to expand the discourse around Museum Decolonization and to build a network of practitioners committed to decolonizing. It is intended to offer guidance and support to organizations who are prepared to do decolonizing work. In 2018, the Abbe Museum was awarded a three-year, nearly $170,000 grant from the Institute for Museum and Library Services, to move MuseDI from concept to reality.
About the Speaker
Starr Kelly is the Curator of Education at the Abbe Museum. Her responsibilities focus on education through dialogue in a decolonizing context. Starr leads the museum's education and public programs work, including program development and delivery, teacher training, and educational resource development. She is a member of the Algonquin First Nation of Kitigan Zibi Anishinabeg in Quebec. Starr has worked as a middle and high school social studies teacher, and is a social justice oriented educator, developing what she refers to as a "curriculum for dignity." Her lessons and pedagogical approach put theory into practice by honoring those she teaches about while simultaneously creating an environment which is responsive to the needs of her learners and dignifies her students' lived experiences. Starr is committed to language and cultural revitalization efforts in Indigenous communities. She is a traditional beadworker in both flat and raised beadwork mediums and enjoys hiking and live music in her spare time.
Starr is a board member of the Maine Archives and Museums where she serves on both the programs and communications committees.
About the Series » Portland's Sustainability Series
Portland's Sustainability Series: Leading conversations on Maine's changing climate
Sustainability (from sustain and ability) is the endurance of systems and processes through time. The Portland Sustainability Series will present a diversity of speakers to share different aspects of the work moving Maine to greater endurance and sustainability. Please join the Portland Public Library and the Southern Maine Conservation Collaborative as we engage in these important issues and conversations.