Related Items
Connect with the Library:
First Friday Art Walk: Monsters
Friday, Nov 05 - Friday, November 05
5:00pm - 8:00pm
Location: First Friday Art Walk: Monsters
Audience: Adults
Join for First Friday Art Walk to celebrate the newest exhibit in the Lewis Gallery, Monsters.  Curated by the Illustration Institute. The First Friday reception will be held from 5:00-8:00pm.  Please note that there is limited capacity in the Gallery and we'll be doing our best to keep people socially distanced.  Masks are required.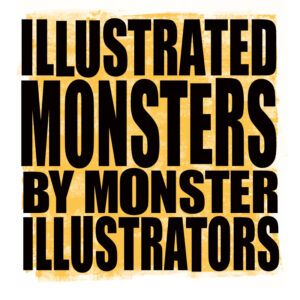 In creating a monster, a dictionary is of no use.
The definition of  "enormous and frightening imaginary creatures" is a wholly inadequate description of our relationship with these beings. Monsters are strangely comfortable in our lives and are culturally more nuanced and confusing to us than ever. They can be horrifying, cute, malicious, dim, powerful and pathetic.
Perhaps the disturbing aspect of monsters is that they remain a foil to our humane characteristics. Monsters in all forms help us understand the things that can happen if our better nature runs astray, help us face our fears, laugh in the face of absudity and embrace otherness with empathy.
Illustrated Monsters by Monster Illustrators provides a unique opportunity to explore a universal subject that spans cultures and informs storytelling on many levels. Each illustrator in the show has a wealth of artistic expertise, inspiration and stories to share with you.
We are deeply thankful to Portland Public Library for hosting this exhibition, to Am-At-Uer Service for their extraordinary printing and to The Stephen and Tabitha King Foundation and The Onion Foundation for their kind sponsorship.
About the Series » First Friday Art Walk at PPL
Portland Public Library participates each month in Portland's First Friday Art Walk throughout downtown Portland.  Join us each month for the opening reception of a new exhibit.  Light refreshments provided .  There are often Arts & Cultural events held in conjunction with First Friday Art Walk throughout the library – check ahead to see what's happening!