Related Items
Connect with the Library:
Friends of the Peaks Island Library Annual Meeting
Wednesday, July 17 - 6:30pm - 7:30pm
Location: Peaks Island Branch
Audience: Adults, Seniors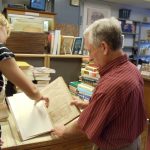 Kenneth Gloss, proprietor of the internationally known Brattle Book Shop will be the guest speaker at the Friends of the Peaks Island Library's Annual Meeting. The meeting will take place in the Peaks Island Community Room. Ken will discuss the value of old and rare books.  He is also a frequent guest appraiser on PBS' Antiques Roadshow, and will talk about and show some of his favorite finds and describe some of the joys of the "hunt," as well as explain what makes a book go up in value. He has many fascinating anecdotes to share as well as guidelines for what to look for when starting a collection. There is also a Q&A session before the conclusion of his talk. Following the talk and question-and-answer session, he will give free verbal appraisals of all books that attendees have brought with them or will do so at his shop in Boston. Please join us! Refreshments will be served. You do not need to be a Friend to attend. All are welcome.