Related Items
Connect with the Library:
Go By Boat: Talk & Presentation by Author & Physician Chuck Radis, DO
Thursday, August 22 - 7:00pm - 8:00pm
Location: Peaks Island Branch
Audience: Adults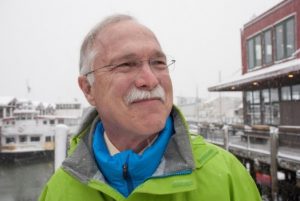 Join Island resident, Dr. Chuck Radis, for a talk and slide-show about his years as the physician for the Peaks Island Health Center and his house calls on the islands of Casco Bay. Dr. Radis has written a book on these experiences, Go By Boat, which can be described as Doc Martin meets All Creatures Great and Small, in this uniquely American true tale about an island physician off the coast of Maine.
Fresh out of training, Dr. Chuck Radis convinces his wife, Sandi, to move to Peaks Island to fulfill a Public Health scholarship obligation. Absent-minded and initially oblivious to island mores, Dr. Radis slowly adapts to a medical practice where x-rays and advanced laboratory testing are available only on the mainland. When he travels to the outer islands of Casco Bay for house calls, he relies on his physical examination skills and a Bass-Master tackle box filled with emergency medications to successfully manage his patients. In a career which spans island medicine to rheumatology, from public health work in a UN refugee settlement to advocacy for Medicare for all, Dr. Radis' writings focus on the importance of empathy and kindness in patient care.
This event is sponsored by the Friends of the Peaks Island Library.