Related Items
Connect with the Library:
There's No Such Thing as Away: Where Does Your Trash and Recycling End Up?
Wednesday, January 22 - 5:30pm - 7:00pm
Location: Rines Auditorium
Audience: Adults
Please join us on Wednesday, January 22 at 5:30pm in the Rines Auditorium for the first 2020 edition of Portland's Sustainability Series. Ecomaine environmental educator, Katrina Bussiere-Venhuizen will present, "There's No Such Thing as Away: Where Does your Trash and Recycling End Up?". Katrina landed her dream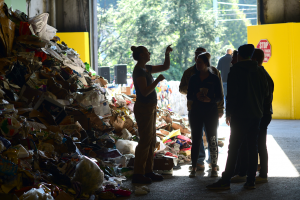 job with ecomaine in August 2016 and has been educating all in her path since then about proper waste management practices, including helping folks know what goes where, the processing that comes next, and where their waste goes from Maine.
Bring your questions and even some examples you've been yearning to learn the answers to. If you've ever been curious about what happens to your trash or recycling, where it all really ends up (Landfill? Ocean?? China???) you won't want to miss this program!
About the Speaker:
Katrina Bussiere-Venhuizen is the Senior Environmental Educator at ecomaine and joined their team in August 2016 with 10 years of experience in various environmental educa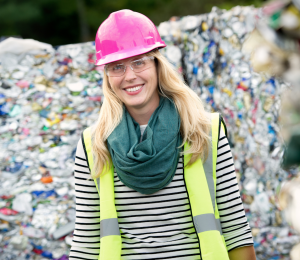 tor roles across the country. She is responsible for designing curricula, on-site tour programs, as well as all other education and outreach programming that facilitates engaged waste reduction among residents, schools, and businesses in ecomaine's 70+ member communities. Katrina holds a Bachelor of Arts degree in Conservation Biology and a Certificate in Environmental Studies from University of Wisconsin-Madison. Her passion and commitment to her job roles inspires students and adults alike to attain their waste diversion and contamination reduction goals.
About the Series » Portland's Sustainability Series
Portland's Sustainability Series: Leading conversations on Maine's changing climate
Sustainability (from sustain and ability) is the endurance of systems and processes through time. The Portland Sustainability Series will present a diversity of speakers to share different aspects of the work moving Maine to greater endurance and sustainability. Please join the Portland Public Library and the Southern Maine Conservation Collaborative as we engage in these important issues and conversations.