Related Items
Connect with the Library:
Literary Lunch: Kate Christensen talks about The Last Cruise with Bill Roorbach
Wednesday, Aug 29 - Wednesday, August 29
12:00pm - 1:00pm
Location:
Audience: Adults
Join us for a conversation between Kate Christensen and literary friend Bill Roorbach to discuss Christensen's new book The Last Cruise.
About the book

The 1950s vintage ocean liner Queen Isabella is making her final voyage before heading to the scrapyard. For the guests on board, among them Christine Thorne, a former journalist turned Maine farmer, it's a chance to experience the bygone mid-20th century era of decadent luxury cruising, complete with fine dining, classic highballs, string quartets, and sophisticated jazz. Smoking is allowed but not cell phones–or children, for that matter. The Isabella sets sail from Long Beach, CA into calm seas on a two-week retro cruise to Hawaii and back.
But this is the second decade of an uncertain new millennium, not the sunny, heedless fifties, and certain disquieting signs of strife and malfunction above and below decks intrude on the festivities. Down in the main galley, Mick Szabo, a battle-weary Hungarian executive sous-chef, watches escalating tensions among the crew. Meanwhile, Miriam Koslow, an elderly Israeli violinist with the Sabra Quartet, becomes increasingly aware of the age-related vulnerabilities of the ship herself and the cynical corners cut by the cruise ship company, Cabaret.
When a time of crisis begins, Christine, Mick, and Miriam find themselves facing the unknown together in an unexpected and startling test of their characters.
About the author

Kate Christensen is the author of six previous novels, most recently The Astral. The Great Man won the 2008 PEN/Faulkner Award. She has published reviews and essays in numerous publications, most recently the New York Times Book Review, Bookforum, O, Elle,and Gilt Taste. She writes an occasional drinks column for The Wall Street Journal called "With a Twist."
Bill Roorbach on the Literary Lunch Series

"I first came to PPL on a Wednesday at lunchtime in 1992 to talk about my first book–Summers with Juliet.   Since then (hard to believe it's more than 25 years!), I have enjoyed reading both solo and together with so many great Maine and New England authors, from Wes McNair to Monica Wood, from Lily King to Crash Barry.  I've been trying to count, but memory doesn't quite serve.  My best guess is that the upcoming event with my soul sister Kate Christensen to discuss her newest book will be my 10th on the PPL stage.  Likely I've been in the audience for twice as many more. I love the conversations, always inspiring.  I love the readings, always entertaining. I love the big personalities, like Richard Ford and Ann Hood. I also like the only slightly quieter newcomers, like Mira Ptacin and Sarah Braunstein, both of whom I met at their Brown Bag readings. And the audiences, smart, engaged, happy to chat, late for their afternoon appointments.  Literary Lunch: It's where I come to make friends!"
About the Series » Literary Lunch Series
Portland Public Library's Literary Lunch series is held monthly and features authors from New England in conversation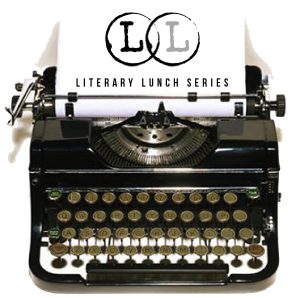 about new works.  Authors are interviewed by literary friends, colleagues or critics.
All Literary Lunches are free to the public. Because they take place over the  lunch hour, guests are encouraged to bring their lunch!  Coffee is generously provided by Coffee By Design.
Questions about our Literary Lunch Series? Please send us an e-mail.
---