Related Items
Connect with the Library:
Lunch Time Gallery Talk with Don Gorvett and Bob Townsend: How prints got to be what they are
Friday, May 19 - 12:00pm - 1:00pm
Location: Main Library
Audience: Adults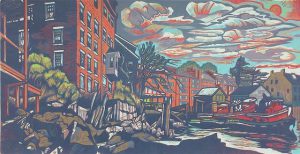 Master printer Robert Townsend of RE Townsend Studios & artist and printmaker Don Gorvett will take visitors on a journey through the contemporary print world. They will discuss and reveal the inspiration and techniques of works in the show. The printmakers will show states and rare proofs and share anecdotal stories concerning the creation of the prints exhibited. Most recently, master printer Robert Townsend and David Wolf of Wolf Editions in Portland, Maine have both been collaborating with artist and print maker Don Gorvett on the Harbor Fantasy Project. This collaborative effort is to interpret Gorvett's large color woodcut Harbor Fantasy in a portfolio format to be published by Piscataqua Fine Art in the near future.
About the exhibit
Maine artist and master print maker Don Gorvett along with master printer Robert Townsend will be exhibiting selected contemporary prints at the Lewis Gallery at the Portland Public Library May 5 – 27. This exhibition is organized through Mr. Gorvett's Perkins Cove Gallery in Ogunquit, ME. Included in the show are the prints of Don Gorvett, Alex Katz, Yvonne Jacquette, Jim Dine, Peter Milton, Aaron Fink, Sidney Hurwitz as well as the monumental linocuts of New York artist Karen Whitman. The exhibition will illustrate the span and breadth of contemporary print making at its best.