Related Items
Connect with the Library:
Maine Suffrage Centennial: Women in Harmony Chorus & LumenArrt
Friday, November 01 - 6:00pm - 8:00pm
Location: Main Library
Audience: Adults, Kids & Families

In honor of the Maine Suffrage Centennial, please join us at approximately 6:15pm on November 1st inside our main entrance for a performance by the Women in Harmony chorus. Simultaneously, LumenARRT! will be projecting suffragist footage in Monument Square and animation on the library's façade highlighting what voters can do to expand voting rights in Maine (from 6:00-8:00pm).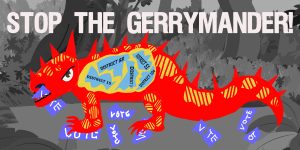 LumenARRT! creates video projections to call attention to the work of non-profits throughout the state. The LumenARRT! crew includes, Geoffrey Leighton, Anita Clearfield, Deb Fahy, Regan Chase, and Suzanna Lasker. For more information about LumenARRT! projection projects, please visit lumenarrt.org or visit lumenarrt on Facebook or Twitter.
FOLKLAND, an exhibit curated by Andy Rosen and Rachael Harkness, runs from October 4-December 21. Folklore and fairytales have long reflected our desire to understand the natural world and human behavior. Stories and illustrations connect us to each other and show how our relationship with nature is constantly evolving. Crafting a new kind of folklore, the artists in this exhibit tell a story of the natural world now, threatened by change, still rife with mystery and wonder. Their works ask us to revisit and reclaim our relationship with the world around us. Featured artists: Cecilia Ackerman, Stephen Burt, Annika Earley, Hilary Irons, and Andy Rosen.
About the Series » First Friday Art Walk at PPL
Portland Public Library participates each month in Portland's First Friday Art Walk throughout downtown Portland.  Join us each month for the opening reception of a new exhibit.  Light refreshments provided .  There are often Arts & Cultural events held in conjunction with First Friday Art Walk throughout the library – check ahead to see what's happening!