Related Items
Connect with the Library:
Noonday Concert Series – Elizabeth Moore and Brianna Fischler
Thursday, February 20 - 12:15pm - 12:50pm
Location: Lewis Gallery
Audience: Adults, Seniors
The Conservatory is proud to present the 2019-20 Noonday Concert Series. Join us for free quality music presented by our talented faculty and students. These concerts have been an integral part of our mission to provide equal access to quality music since 1996.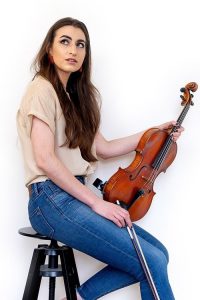 Elizabeth Moore earned a Bachelor's of Music in viola performance from the University of North Carolina School of the Arts and a Master's of Music from the Boston University College of Fine Arts.
Her primary viola instructors were Sheila Browne and Karen Ritscher. In addition to her viola studies, Elizabeth was a Keenan Fellow at Lincoln Center Education in New York City, where she worked with Teaching Artists in public schools and put on a collaborative performance at Lincoln Center Education's Clark Theatre.
She performs regularly as a violist and singer, primarily with Palaver Strings, a musician-led string ensemble formed in Boston, who now calls Portland, ME home.
A Suzuki-certified violin and viola teacher, Elizabeth combines the Suzuki method with traditional methods to set every student up with solid technique from the very beginning and to help them develop a strong and clear tone.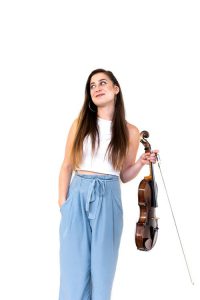 Brianna Fischler is a violist/violinist and teacher based in Portland, Maine.
She holds a B.M. in violin performance from Boston University's College of Fine Arts, where she studied with Bayla Keyes. She also studied with Krzysztof Kuznik at Manhattan School of Music Pre-College.
Brianna, an alum of Kinhaven Music School, has attended the Boston University Tanglewood Institute, Aspen Music Festival, National Orchestral Institute, Garth Newel Music Center, and Three Bridges International Chamber Festival.
She has performed in venues such as The John F. Kennedy Center for the Performing Arts, Zankel Hall at Carnegie Hall, Avery Fisher Hall, and Woolsey Hall.
Brianna has also participated in master classes with Ani Kavafian and Pinchas Zukerman, and placed first in the University of Connecticut Chamber Music Competition with the Annellie String Trio.
She is a founding member, as well as the Education Coordinator of Palaver Strings, a non-profit musician-led chamber ensemble based in Portland, ME. Brianna is also certified in Early Childhood Music Learning Theory and the Suzuki Method.

About the Series » Noonday Concert Series
Founded in 1995, the Portland Conservatory of Music is a nonprofit community music school.  They educate through musical instruction and concert performances. The Noonday Concert Series offers free access to performances by the Conservatory's talented faculty, arguably among Maine's most esteemed musicians.  The weekly concerts are held in downtown Portland throughout the academic year.  The series has always been an integral part of the Conservatory's mission to provide equal access to quality music and highlight its talented faculty and students.
Portland Public Library will be hosting the Noonday Concert Series every third Thursday from 12:15PM – 12:50PM, starting in October. For more information on the Series or the Portland Conservatory of Music, please click here.