Related Items
Connect with the Library:
Noonday Concert Series Online – Ben Noyes
Thursday | December 03 - Wednesday, December 16, 2020
12:00pm - 5:00pm
Location: ONLINE
Audience: Adults, Seniors
The Noonday Concert Series provides free access to live performances by Maine's most talented musicians throughout the academic year. The series has always been an integral part of the Conservatory's mission to provide equal access to high quality music and highlight its talented faculty and students.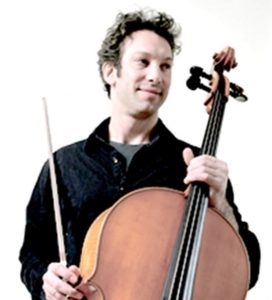 Join me for a sonic exploration into Bach's classic work for solo cello, the beautiful and moving Prelude and Fugue from Suite No. 5 in C Minor. Written for de-tuned A string, it makes even a modern cello sound a bit antique, but at the very least, haunting as a German forest at 3 in the morning.
Portland native cellist Ben Noyes attended Eastman School of Music, received his B.M. from Rice University and his M.M. from Northwestern University.
He held a position with the Naples Philharmonic Orchestra and various summer opera orchestras before moving to Virginia to focus on teaching and performing.. He played with the Roanoke Symphony, Roanoke Opera Orchestra, Miami Symphony and was adjunct faculty at Randolph College in Lynchburg.
Ben has a private studio and pursues the artist's life. He collaborates and performs throughout North America, Europe, and Asia, while also teaching, coaching, and motivating individuals of all ages and professions.
The performances are free but do require registration. Please visit this link to reserve your viewing space!