Related Items
Connect with the Library:
Noonday Concert Series Presents the DaPonte String Quartet
Thursday, May 16 - 12:15pm - 1:00pm
Location: Rines Auditorium
Audience: Adults, Seniors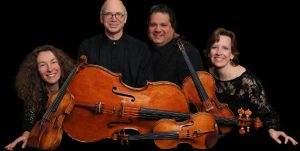 Now in its 28th year, the DaPonte String Quartet relocated early on from its birthplace in Philadelphia to rural Maine, originally on a three-year grant from the National Endowment for the Arts.  Individuals from the community, seeing great value in the DSQ's work, coalesced around them to ensure the group remained here, where they routinely create experiences that a New York Times feature article likened to "watching the Celtics play in the local gym."  They perform a repertoire spanning over five hundred years, from Renaissance music on early instruments to cutting-edge works on electric ones, in places ranging from France, Switzerland, Scotland and Canada to more than twenty American states.  Their recordings are distributed worldwide on the Centaur label.  The Quartet comprises violinists Lydia Forbes and Ferdinand Liva, who alternate first and second violin parts, violist Kirsten Monke and cellist Myles Jordan.
About the Series » Noonday Concert Series
Founded in 1995, the Portland Conservatory of Music is a nonprofit community music school.  They educate through musical instruction and concert performances. The Noonday Concert Series offers free access to performances by the Conservatory's talented faculty, arguably among Maine's most esteemed musicians.  The weekly concerts are held in downtown Portland throughout the academic year.  The series has always been an integral part of the Conservatory's mission to provide equal access to quality music and highlight its talented faculty and students.
Portland Public Library will be hosting the Noonday Concert Series every third Thursday from 12:15PM – 12:50PM, starting in October. For more information on the Series or the Portland Conservatory of Music, please click here.