Related Items
Connect with the Library:
Learn English through Conversation NEW TIME!
Monday | November 28, 2022
3:00pm - 4:30pm
Location: Meeting Room (5)
Audience: Adults
Practice speaking English in a casual setting.  All are welcome – beginner and advanced speakers.
We gather at a table in Room 5 every Monday at 3 o'clock, downstairs near the Art Gallery.
About the Series » Open Conversation Table (for learning English)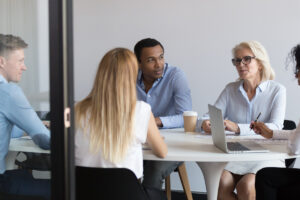 Are you looking to improve your English pronunciation, accent, or confidence in speaking? Join our Open Conversation Table to practice speaking English with other adult learners in an informal and friendly in-person group setting.
The group, which is led by a volunteer who has worked internationally as an English tutor, is free and open to the public.  Beginner, intermediate, and advanced speakers are welcome to join every Monday afternoon at the Downtown branch of the Portland Public Library.
For more information, please call (207) 771-2736 or stop by the Reference Desk on the lower level of the Downtown Library.