Related Items
Connect with the Library:
Page to Stage: Native Gardens
Tuesday, February 18 - 12:00pm - 1:00pm
Location: Lewis Gallery
Audience: Adults, Seniors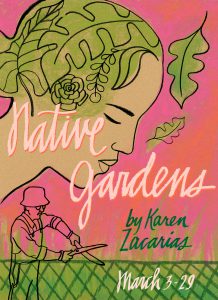 This brilliant new comedy turns well-intentioned neighbors into feuding enemies when a rising Chilean attorney, and his pregnant American wife, purchase a home next to a well-established D.C. couple, and their prized English garden.  Cultures and gardens clash over a fence line that spirals into an all-out border dispute, exposing notions of race, taste, class and privilege.
Copies of this play will be available at the Research Desk, downstairs at the Main Library.
About the Series » Page to Stage
Portland Public Library partners again this year with Portland Stage Co. to present Page to Stage discussions around the 2019-2020

season. These discussions, led by Portland Stage artistic staff, provide insight into the literary and social aspects of the play, as well as exploring the challenges of bringing a particular play to the stage. Page to Stage is held at the Portland Public Library at 12:00 noon on Tuesday two weeks before the show opens at Portland Stage. Copies of the play are available at the Portland Public Library's reference desk for participants to read before the discussion if they would like to. Feel free to bring your lunch – coffee and tea are provided!