Related Items
Connect with the Library:
Page to Stage – Searching for Mr. Moon
Tuesday | October 19, 2021
6:00pm - 7:30pm
Location: Online Event
Audience: Adults, Seniors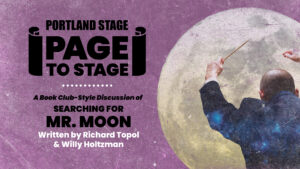 Join us for a Book Club-style Page to Stage with the Portland Stage. Check out your copy of the script and join us two weeks before previews of each Mainstage Production. Scripts are available at the reference desk at the Main Branch of the Portland Public Library. This year discussions will be held over Zoom at 6pm and we invite you to chat about the plays with Literary Manager Todd Brian Backus, his Directing and Dramaturgy Apprentices, and special guests.
At the moment of his daughter's birth, Rich Topol searches for a father to replace the one he lost and finds two – his famous father-in-law Lukas Foss and himself.  Foss' eclectic music underscores Rich's funny and poignant journey to fatherhood. Searching for Mr. Moon is a play for anyone who has contemplated the mysteries of parenthood and mortality and curious about the lives of contemporary classical music icons and Broadway stars.
Full Zoom Info
You will find yourself in a waiting room when you first enter the Zoom gathering, or you may receive a message that the meeting has not yet started. The host will admit you to the program at 6pm.
All microphones will be automatically muted by the host. If you would like to participate in the Q&A, you can send your question to the host via Zoom's chat feature.
By entering into the Zoom program, you are agreeing to have your image captured and shared by Portland Public Library.
Topic: Page to Stage – Searching for Mr. Moon
Time: October 19, 2021 06:00 PM Eastern Time (US and Canada)
Link to join: https://us02web.zoom.us/j/84960614869