Related Items
Connect with the Library:
Paul Betit speaks about "The Man in the Canal"
Wednesday, August 13 - 12:00pm - 1:00pm
Location: Main Library
Audience: Adults, Seniors
Former Portland Press Herald sportswriter Paul Betit will talk about his series of mystery-suspense novels as part of the Portland Public Library's Brown Bag Lecture series at 12 noon, Aug. 13, at the main library at 5 Monument Square.
Betit, who lives in Brunswick, will share back-stories and discuss his writing regimen and the creative process.
Betit's crime novel series, which features U.S. Army CID investigator John Murphy, includes Phu Bai, Kagnew Station and the recently-published The Man In The Canal.
"His latest book has all the great qualities of the first two books in this series," said publisher Nancy Randolph, owner of Topsham-based Just Write Books. "Great characters, super plot, fast-paced action and much more."
"In this well-crafted and suspenseful mystery, (Betit) taps into his 1960s military service in Vietnam as background for his tale," Maine Sunday Telegram book reviewer Lloyd Ferris wrote recently. "This is Betit's third novel set overseas during the Vietnam War. It's the best of the trilogy."
"Through the richness of his language and his fine sense of observation, Betit enables us to really experience another environment," Randolph said. "Traveling with him, you are sure to enjoy the scenery as well as the action."
In Betit's latest novel, Murphy goes undercover in Sweden during the summer of 1971 to find a murderer believed to be hiding among the group of American military deserters who took refuge in the Scandinavian country during the Vietnam War.
"I've been working on this book for quite some time," said Betit, who wrapped up a 38-year career as a newspaperman last November. "It was quite a challenge, especially since I didn't take a step in Sweden until I had written nearly half of the book."
Betit was quite familiar with the locales of the series' first two books.
While serving as an intelligence analyst with the Army during the 1960s, he spent 16 months in Vietnam, the setting for Phu Bai, and nearly two years in Ethiopia, the backdrop for Kagnew Station.
"In those books, I was able to include some of my experiences in the Army to create realistic narratives," he said. "Writing The Man In The Canal required much more research."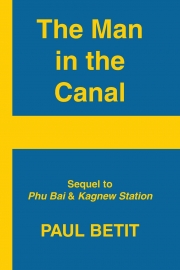 About the Author: While working as an intelligence analyst in the U.S. Army, Mr. Betit served lengthy tours of duty in South Vietnam and Ethiopia. He recently wrapped up a 38-year career as a newspaperman. He lives in Brunswick, Maine, with his wife, Deborah. The couple have two sons.