Related Items
Connect with the Library:
Pride Film Series: Stonewall Uprising
Thursday, June 20 - 6:30pm - 8:00pm
Location: Rines Auditorium
Audience: Adults, Seniors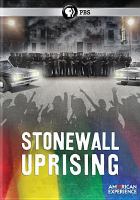 On June 28, 1969, New York City police raided a gay bar in Greenwich Village called the Stonewall Inn. Tired of being harassed and shamed, the bar patrons fought back, marking the beginning of the Gay Rights Movement. As we commemorate the 50th anniversary of the Stonewall Uprising, we present a special showing of the PBS documentary, which features archival footage and interviews with participants.
About the Series » Pride Film Series
Around the world, LGBTQ people are living, loving, and struggling to be seen and heard. The Pride Film series focuses on films that reflect the realities of life in the queer community.