Related Items
Connect with the Library:
The Pulps
Friday, Oct 03 - Friday, October 03
10:00am - 6:00pm
Location: The Pulps
Audience: Adults
The Definitive Survey of a Re-Discovered American Genre from the Lesser Collection at the New Britain Museum of American Art. Sensational paintings that gripped the Depression-era public with their themes of adventure, mystery, horror, sci-fi and damsels in distress.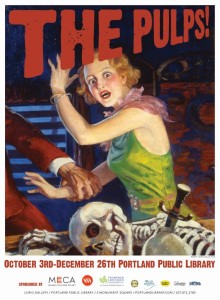 Now, for the first time, the world's largest collection of Pulp Cover Art is presented in a comprehensive touring exhibition of the original paintings and the magazine covers they became.
The exhibition features Tarzan, The Shadow, Secret Agent X, The Mysterious Wu-Fang, The Spider, Doc Savage, The Scorpion, The Whisperer, The Black Mask, and The Lone Ranger.
Often described as unrepentant, unapologetic, unbridled and under-appreciated… these are the vivid and daring period illustrations which became the source of the visual language of today's popular cinema (imaginative movies like Avatar and sensual films like Y Tu Mamá También), comic books, and multi-million copy video games.
In riveting and attention-grabbing imagery, the selected works reflect the subconscious urges of an economically deprived and sexually repressed generation. They set the stage decades ago for the expression of today's liberated consumer culture. Having influenced generations of artists and writers, Pulp Cover Art has long been overlooked due to its subject matter, genre clichés, and rarity of existing examples.
This exhibition is the first in-depth look at these incredible yet misunderstood works of art, some of which, due to their controversial content, have not been seen in public since the Roaring Twenties. This definitive survey of sweeping scope and range explores the subjects and influential work of the artists who shaped American popular culture and the creative landscape for generations to come.
Featuring stunning art by the masters of the genre – Tom Lovell, J. Allen St. John, Virgil Finlay, Hannes Bok, Margaret Brundage, Rafael de Soto, and Enoch Bolles – the exhibition is culled from the world's largest collection of Pulp Art at the New Britain Museum of American Art and documents Depression-era fantasy as depicted on the covers of popular literature.
The content recognizes the rebirth of interest in this genre demonstrated by the surge in new publications, nostalgia events, collectors and reproductions of original pulps by a growing number of new publishers.
As described by scholars and specialists who have studied the genre, Pulp Art … "is more than simply an American art form. It is a state of mind. Politically incorrect, shocking, offensive and obviously fun…. It is unforgettable."
This exhibit would not be possible without support from our generous sponsors:
The Stephen & Tabitha King Foundation
Maine College of Art
The Via Agency
Thompson Johnson Woodworks
Otto Pizza
Welch Signage
Casablanca Comics
Shipyard Brewing Company
Longfellow Books