Related Items
Connect with the Library:
Read Your Mind: Adib Khorram, Mark Oshiro & Julian Winters
Wednesday, Feb 24 - Wednesday, February 24
12:00pm - 1:00pm
Location: Zoom Webinar
Audience: Teens, Teen Reads, Teen Events, Teen Health, Parents & Teachers
In February we will host authors Adib Khorram, Mark Oshiro & Julian Winters to discuss how the intersection of masculinity, queerness, and racial and cultural identity impact teen mental health. Our community partner for the February event is Maine Boys to Men.
Register for this Zoom Webinar here:
https://networkmaine.zoom.us/webinar/register/8216050322887/WN_DrFgBfcVRAiXF6UcAIJAxg
ADIB KHORRAM is the author of Darius the Great Is Not Okay, which earned the William C. Morris Debut Award, the Asian/Pacific American Award for Young Adult Literature, and a Boston Globe–Horn Book Honor, as well as a multitude of other honors and accolades. His follow-up, Darius the Great Deserves Better, received three starred reviews and was an instant Indie Bestseller. His debut picture book, Seven Special Somethings: A Nowruz Story, will be released February 16, 2021. When he isn't writing, you can find him learning to do a Lutz jump, practicing his handstands, or steeping a cup of oolong. He lives in Kansas City, Missouri, where people don't usually talk about themselves in the third person.
JULIAN WINTERS is an award-winning author of young adult novels Running With Lions, How to Be Remy Cameron, and The Summer of Everything. Running With Lions is the recipient of an IBPA Benjamin Franklin Gold Award. Julian currently lives outside of Atlanta where he can be found reading comic books geek and watching the only two sports he can follow—volleyball and soccer. His next novel, Right Where I Left You, will be released in Spring 2022.
MARK OSHIRO is the award-winning author of Anger Is a Gift (2019 Schneider Family Book Award) and Each of Us a Desert, both with Tor Teen. Their middle grade debut, The Insiders, is out in 2021. When not writing, they run the online Mark Does Stuff universe and are trying to pet every dog in the world.
---
About Our Community Partner: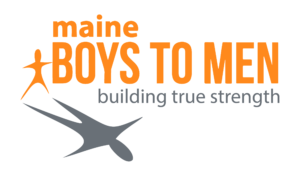 MAINE BOYS TO MEN envisions a world where people of all genders are equally valued, respected, and safe.
Our mission is to end all forms of male violence and self-harm and advance gender equity by supporting the development of self-aware, empathetic boys and men.
We address the development of boys in the context of their relationships, socialization process, and cultural environments. Boys are bombarded by narrow, confusing, and often destructive messages about masculinity beginning at very early ages. We believe it is not the boys, but rather the culture in which they live and grow, that is in need of repair. While holding boys and men to a higher degree of individual accountability, we also put an appropriate level of focus on the environment—families, schools, community organizations, and peer culture—as the key agents of change in the lives of boys.
For more information, visit https://www.maineboystomen.org.
---
About the Series » Read Your Mind: Teen Mental Health Series
Read Your Mind: Exploring Mental Health in Teen Books is a monthly, virtual series focusing on teen mental health & wellness. Featuring YA authors and community health experts, we hope to explore complex and common health concerns through the vehicle of Teen books.

All Read Your Mind sessions:
Will take place live on Zoom, the last Wednesday of every month @ 12:30 PM;
Focus on a particular and unique youth mental health topic;
Feature authors of fiction and nonfiction books for teens;
Feature a community support partner with expertise in the mental health topics covered in each book;
Will leave time for anonymous audience Q&A;
Are intended for teenagers and adults who work with teens;
Will be recorded and made available for future viewing.
For information on individual events, please see the calendar entries below. We'll be adding more events as the year continues so check back soon!
The Read Your Mind series is brought to you by a partnership between the Portland Public Teen Library, the Lewiston Public Teen Library, Print: A Bookstore, and many local community partners who work with young people. Visit Print Bookstore if you would like to purchase any of the books featured in this series.
Questions about this series can be sent to teens@portlib.org.