Connect with the Library:
Sex & Drugs & Rock 'n' Roll Film Series: Almost Famous
Thursday, May 16 - 6:30pm - 8:15pm
Location: Rines Auditorium
Audience: Adults, Seniors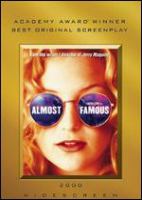 Writer-director Cameron Crowe's fictionalized account of his own adventures as a young man on the road profiling a rock band for Rolling Stone magazine. The film won a Golden Globe award for Kate Hudson in her role as Penny Lane, an Oscar for best original screenplay, and a Grammy for its soundtrack. Featuring Billy Crudup, Jason Lee, Frances McDormand, Anna Paquin, and Philip Seymour Hoffman.
About the Series » Private: Film Series: Sex & Drugs & Rock 'n' Roll
An exploration of films about rock music, the people who create it and the people who love it.