Related Items
Connect with the Library:
Sex & Drugs & Rock 'n' Roll Film Series: Sid & Nancy
Thursday, May 23 - 6:30pm - 8:30pm
Location: Rines Auditorium
Audience: Adults, Seniors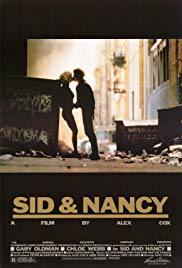 Gary Oldman and Chloe Webb star as Sid Vicious and Nancy Spungen, two young lovers who exemplified the punk lifestyle right up to their deaths. Webb was awarded two Best Actress Awards from film critic groups, and Gary Oldman won the 1987 Evening Standard British Film Award for Most Promising Newcomer.
About the Series » Film Series: Sex & Drugs & Rock 'n' Roll
An exploration of films about rock music, the people who create it and the people who love it.