Related Items
Connect with the Library:
Snack Chat: Get to Know G2O
Wednesday, May 15 - 3:00pm - 4:00pm
Location: S. Donald Sussman Teen Library
Audience: Teens, Teen Events, College & Career
Gateway To Opportunity (G2O) is more than just a summer job. Participants work in a small team of peers and partner with local organizations in Greater Portland to create youth-lead programs that will benefit others in our community! Make money, meet new people, join a team, boost your resume, lead a project, benefit your community and have fun.
Program coordinators for Gateway To Opportunity will be at the Portland Public Teen Library every Wednesday in May to answer questions and help interested teens complete the application process for the Summer 2019 program.
Gateway To Opportunity is made possible through a partnership between Goodwill Industries of New England the University of Southern Maine. For more information or to start your application early, visit https://www.yceme.org/g2o-landing-page.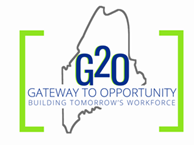 About the Series » PPL Teen Snack Chats
Our goal is to bring topical and relevant conversations directly to the young people who use our library. We invite teens to share a snack and a conversation with a diverse array of passionate professionals working in the Portland community. Topics can be hyper-local all the way to global and universal — you never know where the conversation will take us. Past Snack Chat topics include "Bystander Intervention", "Opioid Addiction", "Dating Violence", and "Understanding STIs".
If you have any questions about this program or are a community partner interested in presenting, please contact the Teen Library at (207) 871-1700 x773, or email teens@portlib.org.