Related Items
Connect with the Library:
Spotlight Lecture: B. A. Shapiro in conversation with Susan Conley
Thursday, June 13 - 6:30pm - 8:00pm
Location: Rines Auditorium
Audience: Adults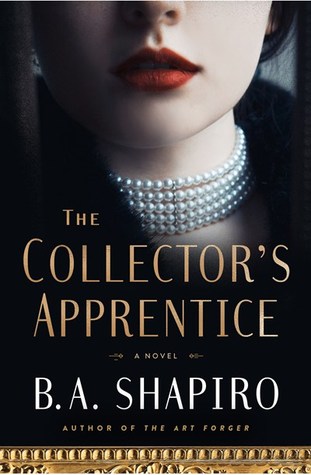 Join us for a conversation between B. A. Shapiro and Susan Conley, to discuss Shapiro's new book The Collector's Apprentice.  The conversation will be held on Thursday, June 13 at 6:30pm in the Rines Auditorium.
About the book
The bestselling author of The Art Forger and The Muralist delivers a page-turning historical thriller of art and revenge, of history and love, that will transport readers to 1920s Paris and America.
It's the summer of 1922, and nineteen-year-old Paulien Mertens finds herself in Paris—broke, disowned, and completely alone. Everyone in Belgium, including her own family, believes she stole millions in a sophisticated con game perpetrated by her then-fiancé, George Everard. To protect herself from the law and the wrath of those who lost everything, she creates a new identity, a Frenchwoman named Vivienne Gregsby, and sets out to recover her father's art collection, prove her innocence—and exact revenge on George.
When the eccentric and wealthy American art collector Edwin Bradley offers Vivienne the perfect job, she is soon caught up in the Parisian world of post-Impressionists and expatriates—including Gertrude Stein and Henri Matisse, with whom Vivienne becomes romantically entwined. As she travels between Paris and Philadelphia, where Bradley is building an art museum, her life becomes even more complicated: George returns with unclear motives . . . and then Vivienne is arrested for Bradley's murder.
B. A. Shapiro has made the historical art thriller her own. In The Collector's Apprentice, she gives us an unforgettable tale about the lengths to which people will go for their obsession, whether it be art, money, love, or vengeance.
About the authors
B. A. Shapiro is the award-wining, NYT bestselling author of THE MURALIST and THE ART FORGER, both stories of art, mystery and history with a bit of romance thrown in. She's also written five suspense novels — THE SAFE ROOM, BLIND SPOT, SEE NO EVIL, BLAMELESS and SHATTERED ECHOES — four screenplays and the nonfiction book, THE BIG SQUEEZE.
In her previous career incarnations, she directed research projects for a residential substance abuse facility, worked as a systems analyst/statistician, headed the Boston office of a software development firm, and served as an adjunct professor teaching sociology at Tufts University and creative writing at Northeastern University.
She began her writing career when she quit her high-pressure job after the birth of her second child. Nervous about what to do next, she said to her mother, "If I'm not playing at being superwoman anymore, I don't know who I am." Her mother answered with the question: "If you had one year to live, how would you want to spend it?" The answer: write a novel and spend more time with her children. And that's exactly what she did. Smart mother.
After writing seven novels and raising her children, she now lives in Boston with her husband Dan and her dog Sagan. And yes, she's working on yet another novel but has no plans to raise any more children.
Susan Conley is the author of the novels Elsey Come Home, Paris Was the Place and a memoir The Foremost Good Fortune, a book that won the Maine Literary Award. Born and raised in Maine, her writing has appeared in The New York Times Magazine, The Paris Review, and Ploughshares. She has been awarded fellowships from the MacDowell Colony, the Bread Loaf Writers' Conference, the Maine Arts Commission, and the Massachusetts Arts Council. She spent three years in Beijing with her husband and two sons before moving back to Portland, Maine, where she currently lives. She teaches in the Stonecoast Writing Program at the University of Southern Maine.
About the Series » Spotlight Lecture Series
Portland Public Library presents the Spotlight Lecture Series held in conjunction with Longfellow Books, Print: A Bookstore,
and Maine Writers & Publishers Alliance.  The Spotlight Lecture Series celebrates new works by notable authors from around the country.  This series is generously sponsored by the Press Hotel.