Related Items
Connect with the Library:
Spotlight Lecture: Eleanor Morse talks about Margreete's Harbor with Neela Vaswani
Wednesday, Apr 28 - Wednesday, April 28
7:00pm - 8:00pm
Location: https://zoom.us/webinar/register/WN_foEBqVElQIW57SO7w4wTNA
Audience: Adults
Click here to REGISTER!
Click here to BORROW this book from PPL!
Click here to PREORDER the book from Print: A Bookstore!
Eleanor Morse's Margreete's Harbor begins with a fire: a fiercely-independent, thrice-widowed woman living on her own in a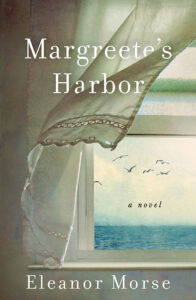 rambling house near the Maine coast forgets a hot pan on the stovetop, and nearly burns her place down.
When Margreete Bright calls her daughter Liddie to confess, Liddie realizes that her mother can no longer live alone. She, her husband Harry, and their children Eva and Bernie move from a settled life in Michigan across the country to Margreete's isolated home, and begin a new life.
Margreete's Harbor tells the story of ten years in the history of a family: a novel of small moments, intimate betrayals, arrivals and disappearances that coincide with America during the late 1950s through the turbulent 1960s. Liddie, a professional cellist, struggles to find space for her music in a marriage that increasingly confines her; Harry's critical approach to the growing war in Vietnam endangers his new position as a high school history teacher; Bernie and Eva begin to find their own identities as young adults; and Margreete slowly descends into a private world of memories, even as she comes to find a larger purpose in them.
This beautiful novel—attuned to the seasons of nature, the internal dynamics of a family, and a nation torn by its contradicting ideals—reveals the largest meanings in the smallest and most secret moments of life. Readers of Elizabeth Strout, Alice Munro, and Anne Tyler will find themselves at home in Margreete's Harbor.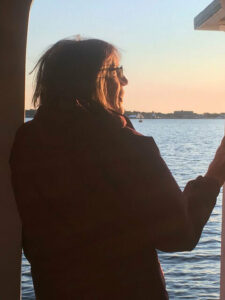 Eleanor Morse spent a number of years living in Botswana in the 1970s and now lives on a small island off the coast of Maine.
Her novel, An Unexpected Forest, won the 2008 Independent Publisher's Gold Medalist Award for Best Regional Fiction in the Northeast U.S. and was selected as the Winner of Best Published Fiction by the Maine Writers and Publishers Alliance at the 2008 Maine Literary Awards. White Dog Fell from the Sky was a 2014 Publishers Weekly Pick of the Week and an AudioFile Earphones Award Winner.
Eleanor earned a B.A. from Swarthmore College, an M.F.A. in creative writing from the Vermont College of Fine Arts, and a Master of Arts in Teaching from Yale University. She has taught in adult education programs, in prisons, and in university systems, both in Maine and in southern Africa, and is currently an adjunct faculty member with  Spalding University's School of Creative and Professional Writing in Louisville, Kentucky.
Neela Vaswani is the author of the short story collection, Where the Long Grass Bends; the mixed-genre memoir, You Have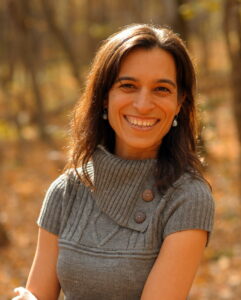 Given Me a Country; the middle-grade novel, Same Sun Here (co-written with Silas House), and the picture book, This is My Eye (author and illustrator).  She is the recipient of the American Book Award, a PEN/O.Henry Prize, the ForeWord Book of the Year Gold Medal, the Italo Calvino Prize for Emerging Writers, and other literary honors.  Also an audio book narrator, she received a Grammy for her narration of I Am Malala: How One Girl Stood Up for Education and Changed the World—and multiple Audies for other work.
Vaswani has a Ph.D. in American Cultural Studies and an MFA in Writing.  She lives in New York City with her family and teaches at Spalding University's brief-residency MFA in Writing Program.  She is an education activist in the U.S. and India, a frequent collaborator with multimedia performance groups based in New York, and serves on the Board of Kweli Journal.
About the Series » Spotlight Lecture Series
Portland Public Library presents the Spotlight Lecture Series held in conjunction with Longfellow Books, Print: A Bookstore,
and Maine Writers & Publishers Alliance.  The Spotlight Lecture Series celebrates new works by notable authors from around the country.  This series is generously sponsored by the Press Hotel.