Related Items
Connect with the Library:
Spotlight Lecture: Linda Holmes in conversation with Nora Flaherty
Thursday, June 27 - 6:30pm - 8:00pm
Location: Rines Auditorium
Audience: Adults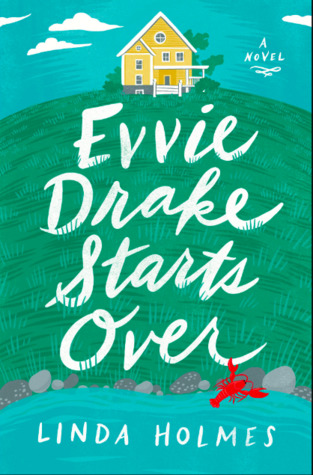 Join us for a conversation between Linda Holmes and Nora Flaherty, to discuss Holmes' new book Evvie Drake Starts Over.  The conversation will be held on Thursday, June 27 at 6:30pm in the Rines Auditorium.
About the book
In a small town in Maine, recently widowed Eveleth "Evvie" Drake rarely leaves her house. Everyone in town, including her best friend, Andy, thinks grief keeps her locked inside, and she doesn't correct them. In New York, Dean Tenney, former major-league pitcher and Andy's childhood friend, is struggling with a case of the "yips": he can't throw straight anymore, and he can't figure out why. An invitation from Andy to stay in Maine for a few months seems like the perfect chance to hit the reset button.
When Dean moves into an apartment at the back of Evvie's house, the two make a deal: Dean won't ask about Evvie's late husband, and Evvie won't ask about Dean's baseball career. Rules, though, have a funny way of being broken–and what starts as an unexpected friendship soon turns into something more. But before they can find out what might lie ahead, they'll have to wrestle a few demons: the bonds they've broken, the plans they've changed, and the secrets they've kept. They'll need a lot of help, but in life, as in baseball, there's always a chance–right up until the last out.

About the authors
Linda Holmes is a podcast host, writer, radio maker, interviewer, Twitter liker, Twitter fearer, former lawyer, one-time college a cappella singer, occasional bread baker, photography dabbler, and very lucky weirdo (her own word).
She's a correspondent at NPR and the host of Pop Culture Happy Hour, their roundtable culture and entertainment podcast. She's worked with most of the radio shows they have in some capacity: She's talked about pop culture on All Things Considered, Morning Edition, and Weekend Edition. She once spent a week writing for Wait Wait, Don't Tell Me, took a turn guest-hosting Jesse Thorn's wonderful interview show Bullseye, and did a terrible job answering questions about music on a bonus episode of Ask Me Another. She does local live radio whenever she gets the chance.
Nora Flaherty is originally from the Boston area but has lived in Chicago, Michigan, New York City and at the northern tip of New York state. Nora began working in public radio at Michigan Radio in Ann Arbor and has been an on-air host, a reporter, a digital editor, a producer, and, when they let her, played records.
She holds a BA in Latin American Studies from the University of Chicago and an MA in Anthropology from the University of Michigan. She's received Associated Press, Public Radio News Directors, Inc., Association of Women in Radio and Television, and Edward R. Murrow Awards for her work.
Nora lives in Portland with her husband, their daughter and their two dogs.
About the Series » Spotlight Lecture Series

Portland Public Library presents the Spotlight Lecture Series held in conjunction with Longfellow Books, Print: A Bookstore, and Maine Writers & Publishers Alliance.  The Spotlight Lecture Series celebrates new works by notable authors from around the country. 

This series is generously sponsored by the Press Hotel.