Related Items
Connect with the Library:
Spotlight Lecture: Motherhood and Visibility in Our Age of Surveillance
Friday | May 19, 2023
6:00pm - 7:00pm
Location: SPACE, 534-538 Congress St, Portland, ME
Audience: Adults
A talk between artist Sophie Hamacher and Maine Prisoner Advocacy Coalition's Linda Small on the occasion of the release of Supervision: On Motherhood and Surveillance, published by MIT Press and Orbis Editions.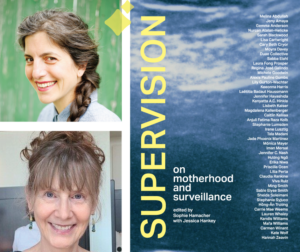 Sophie Hamacher is an artist, teacher, and curator whose work concerns media, technology, and the archive. She attended the Whitney Independent Study Program for Critical Studies and is Assistant Professor of MFA and Academic Studies at Maine College of Art & Design in Portland, Maine. 
Note: This program was edited on May 15th to reflect a late cancellation by co-presenter Keeonna Harris. Harris's work will be read at the event by New York artist Viva Ruiz.
Keeonna Harris is a writer, storyteller, mother of five, and prison abolitionist. She received her Ph.D. from Arizona State University. Her forthcoming memoir, Mainline Mama draws from her experiences as a Black woman, teen mother, and twenty years of raising children with an incarcerated partner. An excerpt of her memoir was recently published on Salon.com. This work interrogates mass incarceration from the perspective of a "mainline mama"– someone who navigates the borderlands of the prison and the free world.
Copies of the book will be sold by Orbis Editions at the event.
A related, ticketed event at SPACE will follow: superVISION: A Dance Party for Reproductive Justice will begin at 9pm.
About Supervision:
A wide-ranging, first-of-its-kind anthology of art and writing exploring how surveillance impacts contemporary motherhood.
The tracking of our personal information, activities, and medical data through our digital devices is an increasingly recognizable field in which the lines between caretaking and control have blurred. In this age of surveillance, mothers' behaviors and bodies are observed, made public, exposed, scrutinized, and policed like never before. Supervision: On Motherhood and Surveillance gathers together the work of fifty contributors from diverse disciplines that include the visual arts, legal scholarship, ethnic studies, sociology, gender studies, poetry, and activism to ask what the relationship is between how we watch and how we are watched, and how the attention that mothers pay to their children might foster a kind of counterattention to the many ways in which mothers are scrutinized.
Presented by Portland Public Library, SPACE, and Orbis Editions.
About the Series » Spotlight Lecture Series

Portland Public Library Spotlight Lectures bring authors into engaging conversation with their peers. This year, these conversations follow the theme A Light on Motherhood. Hear about modern experiences of pregnancy, motherhood, and how they exist in our current culture.
Converstaions are followed by audience Q&A and a book signing.
The series is presented by Portland Public Library with various partners.