Related Items
Connect with the Library:
Sustainability Series: Water World – Portland Water District and the Natural and Built Infrastructure for Treating and Managing Water
Wednesday | February 24, 2021
5:30pm - 7:00pm
Location: Zoom
Audience: Adults
Join us on Wednesday, February 24th at 5:30pm for a discussion with Portland Water District environmental manager Paul Thomas Hunt about the natural and built systems involved in local and regional water management.
Water World – Portland Water District and the Natural and Built Infrastructure for Treating and Managing Water
In reality, water manages itself. Drops of water are carried in clouds. It rains and they fall to the ground around us. They infiltrate, flow, change state, and generally move downhill until finally reaching the ocean. This process is repeated ad infinitum. What we call water management is really intercepting some of these drops, using them, and then returning them to the flow. Paul will talk about the Portland Water District, a legislatively-chartered organization that is charged with doing some of this water managing for us, and give some examples of natural and built systems that are used for this purpose.
About the Speaker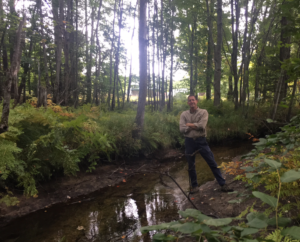 Paul Thomas Hunt is the environmental manager for the Portland Water District. His group of employees is responsible for lake protection and security, environmental education and outreach, water security, industrial pretreatment, and operating two water and wastewater laboratories. Like all of us, Paul is part of the larger water management system in Greater Portland: he and his wife live in Cape Elizabeth in a house that is provided with tap water from Sebago Lake and from which wastewater is discharged – through a comprehensive water treatment system – to Casco Bay.
Full Zoom Info:
You will find yourself in a waiting room when you first enter the Zoom gathering. If you arrive early, you will remain in the waiting room until the host admits you to the program at 5:30.
You are welcome to have your video on or off for this program – your choice! Please be aware, however, that all other participants will be able to see you if your video is on, and this program will be recorded. By entering into the Zoom program, you are agreeing to have your image captured and shared by Portland Public Library.
All microphones will be automatically muted by the host. If you would like to participate in the Q&A, you can send your question to the host via Zoom's chat feature.
PPL Zoom is inviting you to a scheduled Zoom meeting.
Topic: Sustainability Series
Time: Feb 24, 2021 05:15 PM Eastern Time (US and Canada)
Join Zoom Meeting
https://networkmaine.zoom.us/j/82310941414
Meeting ID: 823 1094 1414
One tap mobile
+16468769923,,82310941414# US (New York)
+13017158592,,82310941414# US (Washington D.C)
Dial by your location
+1 646 876 9923 US (New York)
About the Series » Portland's Sustainability Series: Leading conversations on Maine's changing climate
Portland's Sustainability Series is co-hosted by the Portland Public Library and the Southern Maine Conservation Collaborative. Sustainability is the endurance of systems and processes through time. The Portland Sustainability Series presents a diversity of speakers to share different aspects of the work moving Maine to greater endurance and sustainability. Please join us as we engage in these important issues and conversations!
In partnership with: