Related Items
Connect with the Library:
The Flukes
Saturday | March 25, 2023
2:00pm - 3:00pm
Location: Rines Auditorium
Audience: Adults, Seniors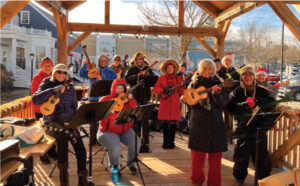 The FLUKES boast a membership of over 30 ukulele musicians. During weekly rehearsals, led by their fearless leader, Nina Allen Miller, they've built a repertoire from many different musical genres, practicing, playing and most of all having a lot of fun. Repertoire ranges from Bach, to the Beatles, and beyond, appealing to audiences of all ages. They have triumphantly performed throughout New England, including performances with the Portland Symphony Orchestra at "Magic of Christmas" and at the Yarmouth Clam Festival, and on a parade float.
The FLUKES have been featured in several TV ads for RENYS, the musical guests on WCSH-6 "207" Program with Rob Caldwell, and have performed for Portland's First Friday Art Walk, Martin's Point Bridge Bash Celebration, South Portland Library's "After Hours" Concert Series, and have traveled far and wide to bring smiles and laughter to appreciative audiences.
For more information on The Flukes, click on the logo below