Related Items
Connect with the Library:
What the Constitution Means to You: A Panel Response to WHAT THE CONSTITUTION MEANS TO ME by Heidi Schreck
Friday, October 23 - 7:30pm - 9:00pm
Location: Zoom follow link in description
Audience: Adults, Seniors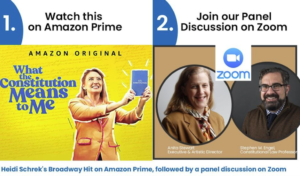 Join Portland Stage for a panel discussion about Heidi Schrek's WHAT THE CONSTITUTION MEANS TO ME on Friday, October 23rd. Register online here: https://sforce.co/2HcE0BH
Schreck's hit Broadway play will start streaming on Amazon Prime starting on Friday, October 16th, and covers Schreck's childhood as a champion orator in Wenatchee, Wash. who earned her college tuition by making speeches on the Constitution in competitions at American Legion Halls across the country. Schreck re-visits her competition-winning speeches from a more contemporary perspective and wonders whether we should craft a whole new constitution. Our panel on the 23rd will be hosted by Executive and Artistic Director Anita Stewart and will feature Stephen M. Engel (Constitutional Law Professor, Bates) and more guests TBA. We encourage everyone interested in joining this panel to watch WHAT THE CONSTITUTION MEANS TO ME by Heidi Schreck on Prime Video before the discussion.
We suggest you view the televised play on Amazon Prime first.
About Stephen M. Engel:
Stephen M. Engel is Professor of Politics and Faculty Fellow in Student Affairs at Bates College and an Affiliated Scholar of the American Bar Foundation. He teaches courses in US constitutional law, US political development, judicial politics, and LGBTQ political and cultural mobilization. He is the author of Fragmented Citizens: The Changing Landscape of Gay and Lesbian Lives (NYU 2016) American Politicians Confront the Courts: Opposition Politics and Changing Responses to Judicial Power (Cambridge 2011), and The Unfinished Revolution: Social Movement Theory and the Gay and Lesbian Movement (Cambridge 2001). His latest book, Disrupting Dignity: Rethinking Power and Progress in LGBTQ Lives, which is coauthored with Timothy Lyle, Professor of English at Iona College, is coming out this spring from NYU Press.