Related Items
Connect with the Library:
Yoga in the Library: Trauma-Sensitive Yoga with Maria Sanchez Cron
Saturday, June 22 - 10:30am - 12:00pm
Location: Main Library
Audience: Adults, Seniors
Trauma sensitive yoga: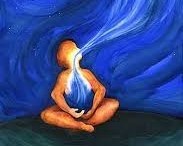 Is safe, supportive, and non-judgmental
Empowers students to choose what is right for their bodies
Calms the mind
Regulates emotions
Allows students to release trauma gently
In a safe environment of compassion and acceptance, students will discover how breathing can help self-regulate and self-soothe. Students will learn self-care techniques, including gentle movement, stretches, relaxation and meditation. Students will be guided to listen to their body and will be given choices to modify any movement. Class will end with a deep relaxation.
No yoga experience is necessary – all are welcome. We will also use chairs to modify poses as needed. Like all library programs, this class is free.
We will have a limited number of yoga mats available.
Attendees are encouraged to register; contact Rebecca Starr at starr@portlib.org or 207-871-1700 x.728.
About the Instructor: Maria Sanchez Herrera is a Kripalu certified yoga instructor with over 300 intensive hours of instruction. Maria is a certified LifeForce Practitioner, a yoga practice designed to alleviate depression and anxiety. She has completed an 8-week mindfulness-based stress reduction training. Maria has also taken a Trauma Sensitive training with the Trauma Center, and recently finish a 200-hour Kundalini teacher training. She has taught specialized classes to trauma survivors, refugees, immigrants and deaf individuals. Personal experience plays an important role in Maria's work, as a trauma survivor herself. Yoga transformed her life, so much so that she felt compelled to share the experience that has replaced her despair with hope with others in her situation. An immigrant from Peru, she has taught classes in English, Spanish, and with an interpreter. Maria has studied shamanism from the Incan traditions. She combines shamanism and yoga, two ancient healing arts, and weaves them in a powerful way. Maria's teaching brings forth both compassion and grace.