Connect with the Library:
2020 Census Self-Count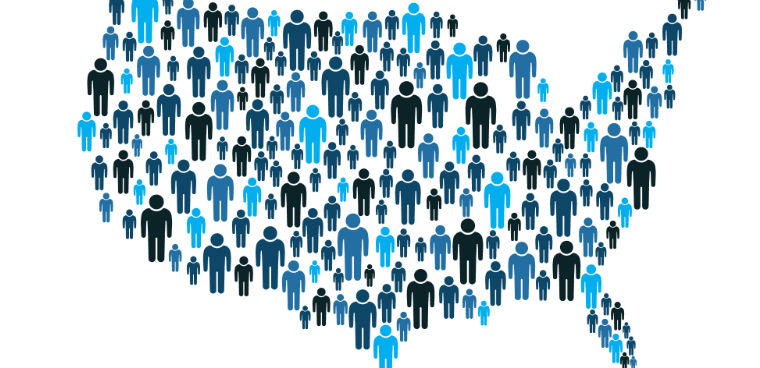 Welcome to the 2020 Census
The 2020 Census questionnaire is quick and easy; it's about 10 minutes to complete. It's safe, secure, and confidential. Your information and privacy are protected. Your response helps to direct billions of dollars in federal funds to local communities for schools, roads, and other public services and results from the 2020 Census will be used to determine the number of seats each State has in Congress and your political representation at all levels of government.
Things to Note:
You must complete your questionnaire once you begin. If you leave the questionnaire and return later, you will have to start over.
Do not use the web browser buttons (back, forward, or close browser). Use the buttons within the questionnaire to navigate.
For best results, use the latest version of Chrome, Firefox, Internet Explorer, or Safari. Enable cookies.
Invitation to Respond:
Homes will begin receiving their invitation to respond to the 2020 Census between March 12-20. These official Census Bureau mailings will include detailed information and a Census ID for completing the Census online.
How to Respond:
The 2020 Census will ask a few simple questions about you and everyone who is or will be living with you on April 1, 2020.
For the first time, you can choose to complete the census online, by phone, or by mail. Find out more about each of these methods below:
Please note that if you are responding online, you must complete the census in one sitting, as you don't have the ability to save your progress. See the questions the census asks here.
If you do not receive an invitation to respond from the Census Bureau, you may respond online or visit our Contact Us page to call our phone line.
Who Should Respond
The 2020 Census counts everyone living in the United States and its five territories (Puerto Rico, American Samoa, the Commonwealth of the Northern Mariana Islands, Guam, and the U.S. Virgin Islands).
One person should respond for each home. That person must be at least 15 years old. They should live in the home or place of residence themselves and know general information about each person living there. (For more information, visit Questions Asked.)
Please note: If you live in American Samoa, the Commonwealth of the Northern Mariana Islands, Guam, or the U.S. Virgin Islands, the process for completing the census will be 100% paper-based and led by Census takers. Visit Counting the Island Areas for more information.
Everyone Counts
The Census Bureau has specific operations and processes in place to count everyone, including those in group living situations such as college dorms, nursing homes, military barracks, and prisons.
Who Should Be Counted and Where?
You should be counted where you are living and sleeping most of the time as of April 1, 2020. If you are responding for your home, count everyone who lives and sleeps there most of the time as of April 1, 2020. This includes young children, foster children, roommates, and any family members or friends who are living with you, even temporarily.
People in some living situations—including students, service members, and people in health care facilities—may have questions about how to respond or where they should count themselves. You may also have questions if you are moving, have multiple residences, or have no permanent address.
For more information, please visit Who to Count.
Language Support
You can complete the census online or by phone in 13 different languages: English, Spanish, Chinese, Vietnamese, Korean, Russian, Arabic, Tagalog, Polish, French, Haitian Creole, Portuguese, and Japanese.
In addition, bilingual invitations and paper questionnaires in English and Spanish will be sent to select areas of the country.
To help you respond, the Census Bureau also offers webpages and guides in 59 non-English languages, including American Sign Language, as well as guides in Braille and large print. Visit Language Support to learn more.
Avoiding Fraud and Scams
The U.S. Census Bureau is committed to making the 2020 Census quick, easy, and safe for all participants. Here are some tips to help you stay safe;
Phishing is a criminal act in which someone tries to get your information by pretending to be an entity that you trust. Phishing emails often direct you to a website that looks real but is fake—and may be infected with malware.
It is important to know that the Census Bureau will not send unsolicited emails to request your participation in the 2020 Census. Further, during the 2020 Census, the Census Bureau will never ask for:
Your Social Security number.
Your bank account or credit card numbers.
Anything on behalf of a political party.
Money or donations.
In addition, the Census Bureau will not contact you on behalf of a political party.
Staying Safe at Home
If someone visits your home to collect a response for the 2020 Census, you can do the following to verify their identity:
First, check to make sure that they have a valid ID badge, with their photograph, a U.S. Department of Commerce watermark, and an expiration date.
If you still have questions about their identity, you can call 844-330-2020to speak with a Census Bureau representative.
Reporting Suspected Fraud
If you suspect fraud, call 844-330-2020 to speak with a Census Bureau representative. If it is determined that the visitor who came to your door does not work for the Census Bureau, contact your local police department.