Connect with the Library:
4-H Civic Action Club
Join the 2020 4-H Club! Through UME's Extension program, we aim to engage teens with college readiness and workforce development. We will cover the following four focal areas over the course of the year:
Social Justice
STEM (Science, Technology, Engineering, Math)
Teaching
Food Systems
4-H Club meets twice a week, Monday and Tuesday from 2 to 2:45 PM, starting on December 14th. Choose one of the two sessions per week as they cover the same material.
We offer:
Leadership
College Preparation
Service to others
Job Skills
Meeting new people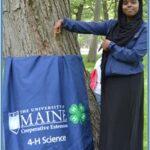 You must be a teen from Cumberland County to attend. The overall goal of our group is that "Teens will demonstrate knowledge, skills, attitudes and behavior necessary for fulfilling and contributing lives''. As one of the oldest youth education organizations in the county, 4-H has a rich tradition of fostering valuable skills through transformative and fun opportunities which students may not receive in traditional classrooms.
For more information or to contact:
Dana Dotson, 4-H Youth Development Professional
dana.dotson@maine.edu
276.356.5474
http://extension.umaine.edu/cumberland
University of Maine Cooperative Extension
75 Clearwater Drive
Falmouth, ME 04105
207.781.6099
extension.cumberland@maine.edu

The University of Maine does not discriminate on the grounds of race, color, religion, sex, sexual orientation, including transgender status and gender expression, national origin, citizenship status, age, disability, genetic information or veteran's status in employment, education, and all other programs and activities. The following person has been designated to handle inquiries regarding nondiscrimination policies: Director, Office of Equal Opportunity, 101 North Stevens Hall, 207.581.1226.