Connect with the Library:
National Poetry Month, a 2017 Celebration!
April is a time to celebrate the richness poetry brings to our community and to our lives. Join us for a month-long celebration of all things poetic! We will highlight the diversity of voices, the beauty of language, and the mystery of the soul through an array of programs and pop-up events. Our featured programs are listed below, but be sure to visit the library for additional poetic inspiration. We hope to inspire you to continue the celebration of poetry year-round!
---
At our Poetry Open Mic, everyone is welcome to step up to the mic and share a favorite poem from a favorite poet, or share one of their own poems. What poets have inspired you? Are you a local poet? Come and share your work or a poem that's touched your life.
Literary Lunch: Lee Sharkey in conversation with Stuart Kestenbaum
Local poet Lee Sharkey talks about her new book Walking Backwards, which examines resistance to violence and repression through poets and artists whose voices arise from the Holocaust. Sharkey will discuss her book and poetry in general with Maine Poet Laureate Stuart Kestenbaum. This special National Poetry Month edition of our Literary Lunch Series (held a week earlier than usual) is sure to spark rich conversation. Bring your lunch and join us!
Poetry Spotlight: Henry Wadsworth Longfellow
Join us as we take a closer look at Henry Wadsworth Longfellow, Portland's native son and one of America's most-recognized and best–loved poets. Born in Portland, Maine, in 1807, he became a national literary figure by the 1850s and a world-famous personality by the time of his death in 1882. Our guide through the life and works of this legendary poet will be Maine Historical Society's John Babin, co-author of Henry Wadsworth Longfellow In Portland: The Fireside Poet of Maine.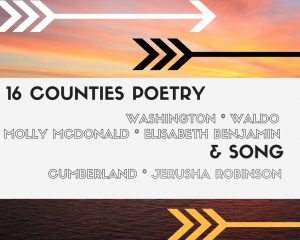 16 Counties Poetry (& Song!) Project
This new series will explore poets living and working in each county in Maine. We'll begin with two poets from Waldo and Washington Counties, Elisabeth Benjamin and Molly McDonald, who will read their work along with a performance from a Portland cellist and songwriter, Jerusha Robinson (who may be joined on a song by a musician friend or two).
Upcoming Events:
Poetry Spotlight: Henry Wadsworth Longfellow
12:00pm - 1:00pm
Location: Main Library, Rines Auditorium
Audience: Adults, Seniors
This month we'll shine the spotlight on Henry Wadsworth Longfellow, Portland's native son & one of America's most-loved poets. With Maine Historical Society's John Babin, visitor services manager for the Wadsworth/Longfellow House.
16 Counties Poetry (and Song!) Project
4:00pm - 5:00pm
Location: Main Library, Lewis Gallery
Audience: Adults, Seniors
Join us as we kick off a new poetry series: the 16 Counties Poetry Project! Our series will explore poets living and working in each county in Maine. We'll begin with two poets from Waldo and Washington (along with a Portland cellist and songwriter)