Connect with the Library:
Be a Citizen Scientist
Doing science can be fun! You may think of research as teams of professional scientists at work but with the aid of the Internet, non-specialists can contribute, too.  As "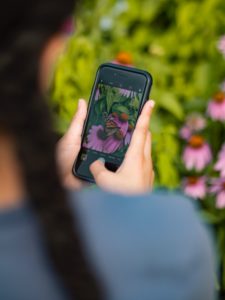 Citizen Scientists" we can share in scientific data collection and providing access to scientific information within our communities.  PPL promotes citizen science through events, educational programs, and volunteer opportunities for you to explore science or technology on your own, increase personal understanding and appreciation, and contribute to the research underway.
Want to learn more about
Citizen Science?
Check out The Crowd and the Cloud a four-hour PBS documentary series on citizen science. 
The Citizen Science Association gives open access to articles published about citizen science through their journal "Citizen Science: Theory and Practice". CSA also offers free webinars and it has past webinars archived on their YouTube channel. 
Tools to Find
Projects
Materials needed: A computer or a smart phone with internet access
Areas of Study: Biology and Ecology, Astronomy, Arts and Humanities and many others
Our Favorite Projects:  
Galaxy Zoo – Explore far away galaxies and classify pictures taken through high powered telescopes
Snapshot Safari – Classify and count animals in photographs taken by trail cameras in the African safari
Zooniverse is a web portal that hosts many projects, including some of the largest and most popular. Most Zooniverse projects have users look at pictures and classify or transcribe what they see so that the data can be used by scientists. Areas of study that current and completed projects cover include nature and climate science, space and astronomy, cell biology, medical sciences and humanities, among others. Zooniverse also has a phone app for citizen scientists on the go. There's bound to be a project you'd find interesting, so check it out.
This citizen science project search engine is a great place to start hunting for new projects to work on. The search allows you to filter results by materials needed, geographic area, topic of study, suggested age of participant and much more. SciStarter also has a blog for citizen science news and information, and a really helpful Tool Database to aid citizen scientists.
A citizen science organization for projects with an emphasis on environmental justice and community impact. Offers open source and low-cost solutions for equipment and software to help make scientific studies more accessible to all.
Tools for
Conducting
Citizen Science
Materials needed: A computer or a smart phone with internet access, a camera to take pictures
Area of Study: Biodiversity 
Social network and education tool that aims to get people outside to connect with the natural world. Users upload pictures of plants and animals they encounter and the location where they were found, and the community helps identify each species depicted. iNaturalist allows citizen scientists to collect data on biodiversity on a large scale. Scientists can use this data to find out where species are occurring, note patterns in seasonal activity, fight the spread of invasive species and locate hard to find endangered species.  
These resources from the National Geographic Society are intended to help community groups conduct their own "BioBlitz" a method of data collection that helps to measure biodiversity in a given habitat. Works well in conjunction with iNaturalist and City Nature Challenge. 
Citizen science for birdwatchers! eBird is the world's largest biodiversity-related citizen science project, with more than 100 million bird sightings contributed each year by eBirders around the world. eBird aims to collect information on bird sightings worldwide. When users upload their pictures and record sightings the information is added to an Interactive real time database that can help scientists and conservationists learn about species distribution and migratory habits. Includes monthly birding challenging and resources for birding at home! A collaborative enterprise with hundreds of partner organizations, thousands of regional experts, and hundreds of thousands of users, eBird is managed by the Cornell Lab of Ornithology.
Featured Citizen Science Projects