Connect with the Library:
Celebrate Earth Day All Month Long With PPL
Earth Day is April 22nd and PPL is celebrating with public programs and resources throughout the month.  
Andri Snaer Magnason Virtual Lecture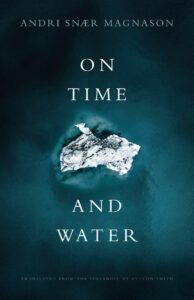 First, on April 14th at 4:30pm, we are proud to partner with UNE, USM, and the Portland Museum of Art for a community event with Icelandic author, filmmaker and activist Andri Snaer Magnason.   
The event will celebrate Mr. Magnason's latest book, On Time and Water, and will feature a presentation by Mr. Magnason, opportunities for guided small group discussions of passages from On Time and Water, and a Q&A with the author. 
For more information on Andri Snaer Magnason, On Time and Water, and his other work, visit his website here. 
Wild Seed Project Presents in Portland Sustainability Series

Join PPL and the Southern Maine Conservation Collaborative on Wednesday, April 28th at 5:30pm for a for a presentation by Wild Seed Project founder and Executive Director Heather McCargo on the fascinating lives of native plants and how you can propagate and help preserve them.
In this live virtual program Heather McCargo (Executive Director of the Wild Seed Project) will explore the fascinating reproductive life cycle of New England native plants and how we can change our landscape practices to support wild plant reproduction, pollinators, and other wildlife. The program will include instruction on simple outdoor seed sowing that anyone can do to help increase native plant populations and protect the genetic diversity of our native flora and to how to be part of a grassroots movement to sow native seeds. 
Environmental Science Databases 
PPL offers several research databases containing information on environmental issues. These include collections on aquatic sciences and fisheries, agriculture, environmental policy, and more. You can access these collections through the Digital Maine Library (accessible for free without a library card from anywhere in the state of Maine!). When visiting the Digital Maine Library, select "Environment & Ecology" from the Subject dropdown selector.   
Earth Day
The first Earth Day was held on April 22nd, 1970, and the annual event has become a worldwide phenomenon featuring community events and awareness building for environmental protection and the preservation of the planet. Find out more about Earth Day and find local community events at EarthDay.org.