Connect with the Library:
Exhibit: One Day at a Time
One Day at a Time serves to reaffirm the values of the Portland Public Library. Collaboration, Sustainability, Freedom, and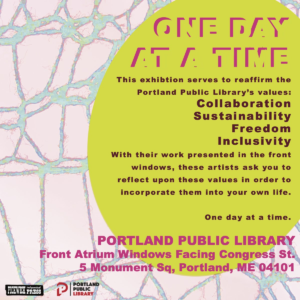 Inclusivity is the foundation upon which this exhibition has been built.
In their own words, "The Portland Public Library will be the civic and cultural center of a dynamic region in which citizens are literate, informed, and engaged. The Library will provide resources and experiences that inspire imagination, curiosity, awareness, and learning. The Library will embrace change and evolve to meet the needs of the community.
With their work, these talented and passionate artists ask you to reflect upon these values in order to begin incorporating them into your own life, one day at a time. Intentionally bringing together artists from various points in their careers, different backgrounds, and a wide array of perspectives, the heart of this exhibition resides within the power of mutual understanding. The selected work speaks directly to the community that comes to the Library seeking refuge,enlightenment, safety, and accessible learning. Hanging in the front windows of the Library's front facade, this work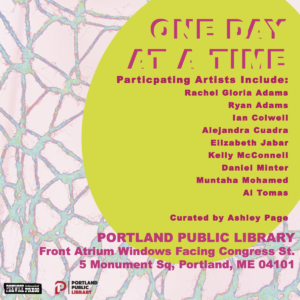 will be on display to the public through the fall.
The participating artists include: Rachel Gloria Adams, Ryan Adams, Ian Colwell, Alejandra Cuadra, Elizabeth Jabar, Kelly McConnell, Daniel Minter, Muntaha Mohamed, and Al Tomas. Curated by Ashley Page. Special thank you to our partners, Rachael Harkness at The Portland Public Library and Pilar Nadal at Pilar Pickwick Independent Press for their generous support and extraordinary talents.