Connect with the Library:
hoopla
As of September 1, the Portland Public Library is no longer a subscriber of hoopla. More information can be found in our blog post.
PPL's digital borrowing platform allows you to stream movies, television, music, audiobooks, ebooks, and graphic novels for free! Choose from thousands of Hollywood blockbusters, best selling authors and music artists and from an extensive catalog of educational materials, children's titles, foreign films, and hard-to-find content.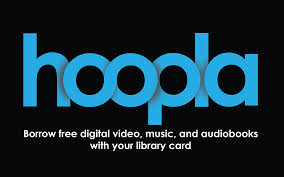 No waiting!! hoopla allows multiple patrons to borrow the same item, so no waiting for hold lists.
hoopla is a division of Midwest Tape, a trusted name in the library world of ebooks, audiobooks, movies and music. We selected their product for ease of use and the breadth of their content.
Have your Portland Public Library card handy and go to hoopladigital.com. Click on the Login button and follow their simple sign-up process.
If you want hoopla on the go, you can install their free mobile app on your iOS, Android device, or Kindle Fire HDX. Download from the Apple Store, Google Play, or Amazon.
That's it! Once you sign in, you are set to begin borrowing. You can borrow up to 4 items per month. Loan periods vary depending on format — audiobooks for 21 days, movie and TV titles for 3 days, and music titles for 7 days. Try hoopla and let us know what you think!
Follow these instructions to get started.