Connect with the Library:
Overdrive & Overdrive Advantage
Download popular eBooks and eAudiobooks for free to any device from the Maine Infonet Download Library.
---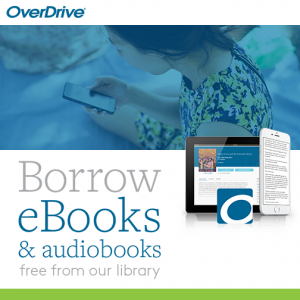 Powered by OverDrive and offered in partnership with other Maine libraries PPL offers Overdrive and OverDrive Advantage, which gives PPL cardholders additional titles to download.  IMPORTANT!  To see PPL's exclusive content, remember to log in with your personal PPL library card number before searching for titles! This will ensure that your search results include all of the Overdrive Advantage content available to PPL cardholders.
To get started you need your library card (from PPL or any participating library), a compatible computer or device, and in some cases, you will need to download software (Adobe Digital Editions) and/or an app (OverDrive Media Console).
Watch this Getting Started video for an overview, follow these instructions to get started on your device: iOS, Android, Kindle Fire, Nook HD, Kindle Paperwhite, or visit the OverDrive Help page for step-by-step instruction on downloading to your computer or device.
The fine print…
Lending period is 7 or 14 days, your choice can be made in Settings.
No need to return items, they automatically become inactive on your device after the loan expires.
You may borrow up to 3 electronic titles at a time.
In most cases, you may return items early.
If an item is checked out to other patrons, you may add your name to a "Hold" list and we will email you when it becomes available. You may place 3 items on hold at a time. Once the email is sent, you have 3 days to check out the item.
Items are renewable if there are no holds pending.
For more information, view the Download Library Lending Policies.