Connect with the Library:
Reader's Advisory Book of the Week Project
Book of the Week: December 10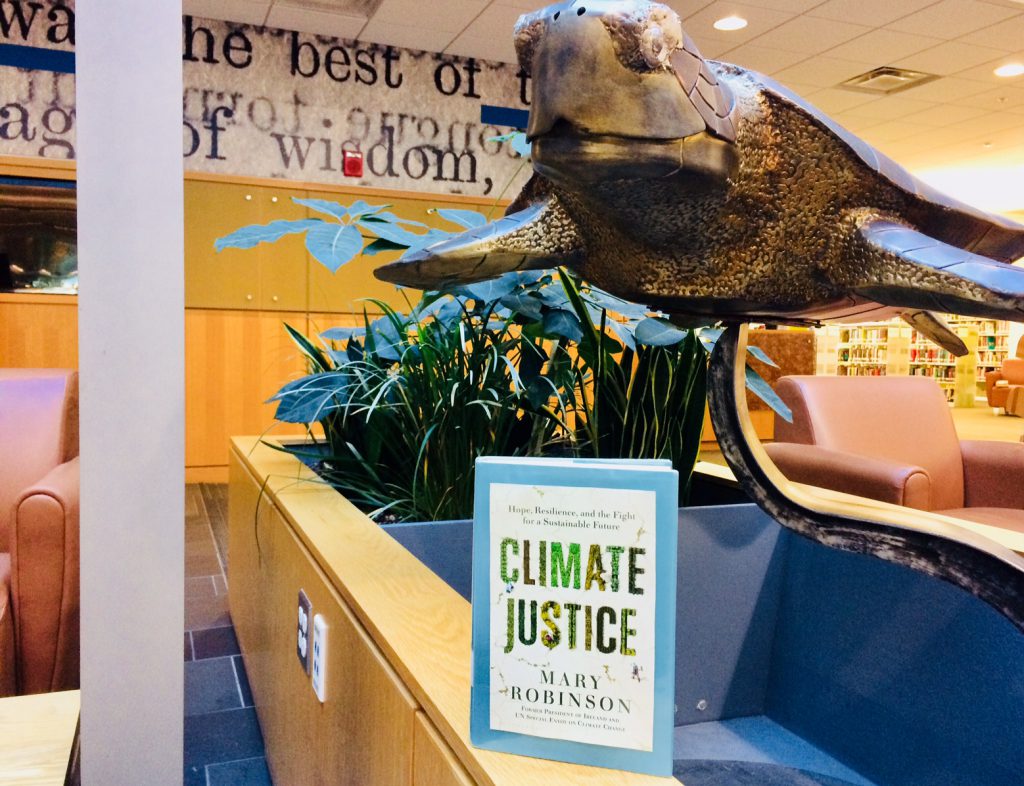 You may have already tuned in to Mothers of Invention, a new podcast on women and climate justice from Irish comedian Maeve Higgins and former Irish President Mary Robinson. But there's an uplifting, heartening book about climate justice, too? In Climate Justice: Hope, Resilience, and the Fight for a Sustainable Future, Mary Robinson shares all that IS truly possible through stories of people doing grassroots work that deeply impacts their communities, countries, and the world. We see how Sharon Hanshaw of East Biloxi, Mississippi became an activist for the rights of her community after Hurricane Katrina. Constance Okollot, who calls herself a "climate change witness," advocates on behalf of women farmers in Uganda who are experiencing the crippling fallout of drought. Jannie Staffansson is a powerful voice for how climate change has affected Europe's indigenous Saami people. Climate Justice is a welcome reminder of how many people and countries continue to be devoted to our planet's future—and to each other.
Book of the Week: December 3
"The story Magsalin wishes to tell is about loss." Magsalin appears in Chapter 1 of Gina Apostol's new novel Insurrecto, and you can find Magsalin's story in Chapter 1 if you flip straight to page…107. Insurrecto is our book of the week: "A searing and psychedelic road trip through the long, sordid history of Philippine-American relations, Insurrecto is at once a murder mystery, a war movie, and a moving exploration of all the ways grief lives on, both in a people and in a person. A masterful puzzle, in which, as Apostol writes, 'one story told may unbury another.'" -Elaine Castillo.
Book of the Week: November 26 
'Tis the season for cookbooks! Warm hearts and bellies this winter with recipes from The Immigrant Cookbook: Recipes that Make America Great. Maine's own chef Cara Stadler (@carastadler) shares a recipe for Steamed Bass with Umeboshi Soy Sauce. Page through to unearth more treasures, like April Bloomfield's Banoffee Pie from England, Zarela Martinez's Chipotle-Lime Chicken from Mexico, Nina Compton's Roasted Jerk Corn from Saint Lucia, Carla Capaldo's Frittedda with artichokes, fava beans, and peas from Italy, and Samantha Seneviratne's True Love Cake from Sri Lanka. Editor Leyla Moushabeck writes about these dishes: "With each bite, you can taste a distinct element of warmth, like a hug from your mother, or returning home after a journey."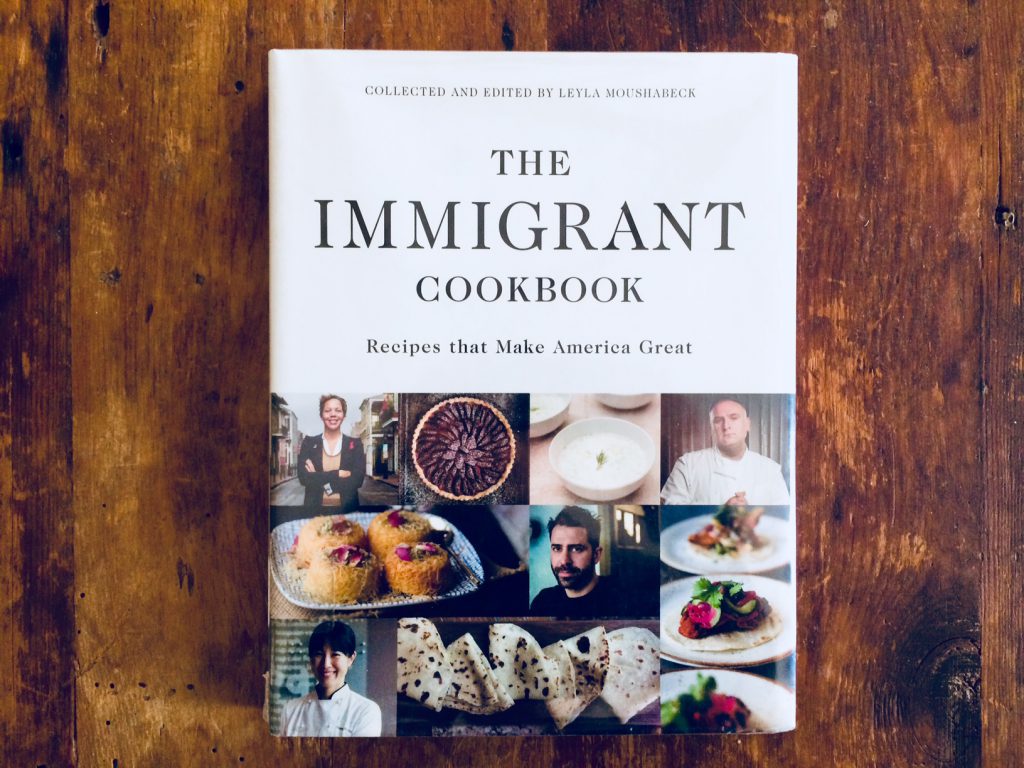 Book of the Week: November 19
"Ningikendaan akiin bakaanadoon / I know there are different worlds…" -Margaret Noodin  
New Poets of Native Nations gathers poetry by Tacey M. Atsitty, Trevino L. Brings Plenty, Julian Talamantez Brolaski, Laura Da', Natalie Diaz, Jennifer Elise Foerster, Eric Gansworth, Gordon Henry, Jr., Sy Hoahwah, LeAnne Howe, Layli Long Soldier, Janet McAdams, Brandy Nālani McDougall, Margaret Noodin, dg nanouk okpik, Craig Santos Perez, Tommy Pico, Cedar Sigo, M. L. Smoker, Gwen Westerman, and Karenne Wood, and is edited and introduced by Heid E. Erdrich, with cover art by Sherwin Bitsui.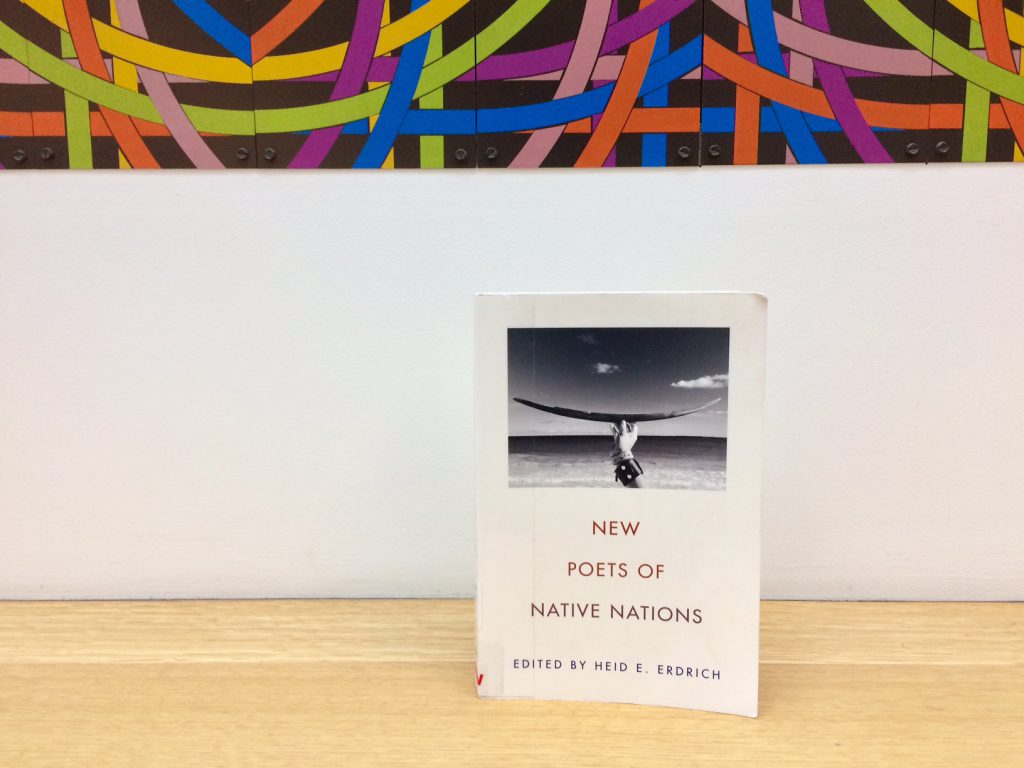 Book of the Week: November 12
"Powder: Writing by Women in the Ranks, from Vietnam to Iraq" (edited by Lisa Bowden and Shannon Cain, Kore Press, 2008) is a dynamic and moving collection of poetry and creative nonfiction by women veterans. "It's My Country Too: Women's Military Stories from the American Revolution to Afghanistan" (edited by Jerri Bell and Tracy Crow and dedicated to women serving on active duty, in the reserve, and in the Guard, Potomac Books, 2017) offers a meticulously researched and complex history of women's military stories, raising up their voices and sharing dozens of written and oral accounts and historical photographs, personal experiences, challenges and victories—from accounts of Prudence Wright's Guard during the Revolutionary War to Major Charity Adams Earley's command of the 6888th Central Postal Directory in World War II to the many powerful individual stories of today's veterans.  
Contact the library for more information on a wide range of veteran's histories and resources for veterans.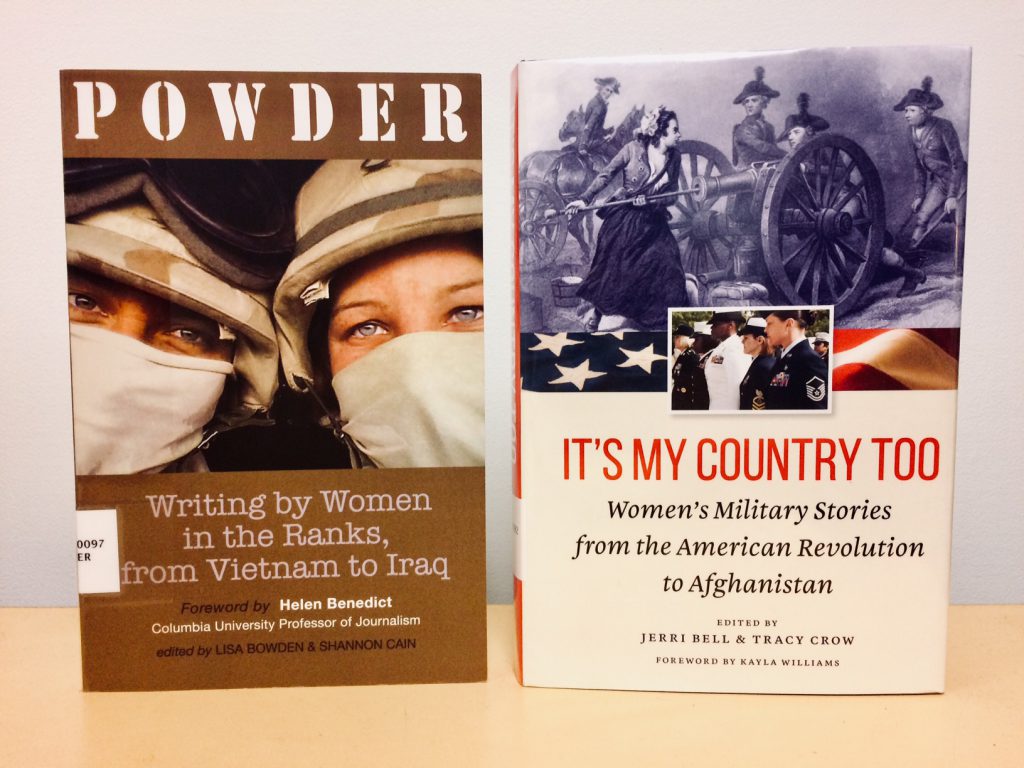 Book of the Week: November 5
"Never in history has every demographic group been viewed as equal, nor has there been a moment in human history where oppression did not exist. Nevertheless, women, nonbinary folks, people of color, LGBTQ folks, people of faith, and people with disabilities have been fighting for a better future. It is time that we honor this truth and tell these stories. When we learn about the past and the state of the present, we can come closer to creating a world that values everyone's life." -Blair Imani   
Writer Blair Imani and illustrator Monique Le team up to share short biographies and vibrant portraits of 70 women and nonbinary people in Modern HERstory.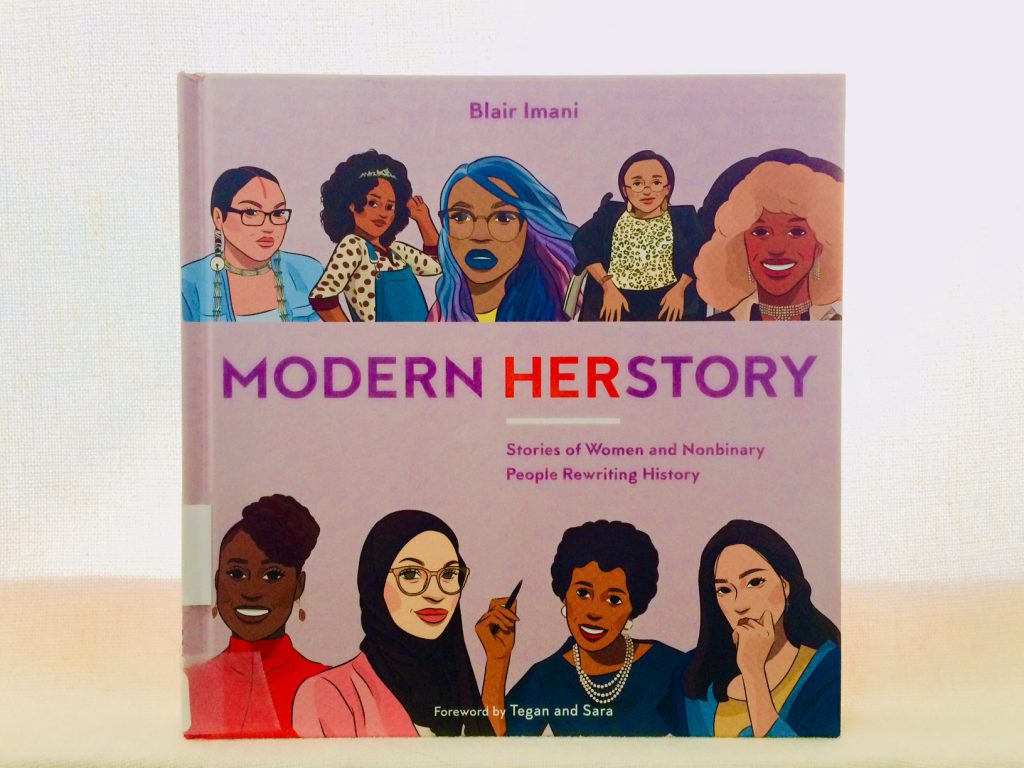 ---
Book of the Week: October 29
"Downeast Maine, where I live, is for me the most beautiful place on earth, even in February, even on a dark day in a sharp wind." So begins Maine author Susan Hand Shetterly's luminous and carefully-researched "Seaweed Chronicles: A World at the Water's Edge." Her informative, thoughtful writing on seaweed and seaweed harvesting and about the lives of Mainers (her interviews with people particularly shine) is a must read for those curious about "the underwater forest" as well as the many intricately-connected lives on our coast. Shetterly will be discussing her work at PPL on November 28: please come!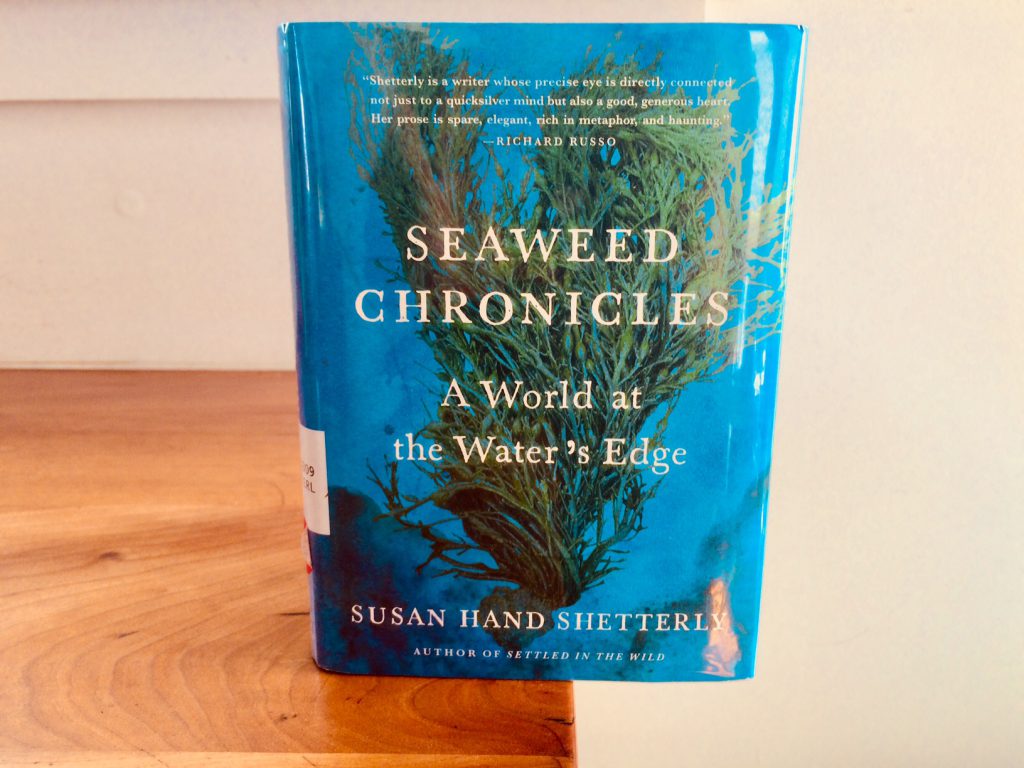 ---
About Book of the Week
Our project is created by Reader's Advisory staff and is focused on sharing one book from the library's collections each week. The book might be fiction or nonfiction, a new title or an older gem from the stacks. You can see a photo of each new book of the week on the website here. We will also post the books and photos to the library blog each month. Curious about new or past books of the week? Check out the booklist through this link as it continues to grow!
We are committed to our community of readers and to fantastic books. We hope to continue building a City of Readers through exploring and sharing a wide range of books and great authors from the library's collections. Thank you for delving into the stacks with us, curious readers! If you would like your own personalized list of reading ideas from our staff based on your interests, fill out a "Your Next (Great!) Read" form here and we'll be in touch.