Connect with the Library:
Smart Girls Read @ PPL
The Sam L. Cohen Children's Library  hosts a monthly book club for girls ages 9-12. Smart Girls Read @ PPL book club provides a forum where girls can explore what's on their minds: what's really important to them as well as strengthening their sense of self. The books they read act as catalysts to spark critical conversations about the roles of girls and women in the past, and examining the girl culture of today.  This book club is held on the second Saturday of the month at 2:00 pm.
Smart Girls Read @ PPL is facilitated by the Children's Library staff. Please contact the Children's Desk to find out the book of the month and to get assistance obtaining a copy! All you need to participate is a desire to voice your opinion, a willingness to listen to others, an interest in reading and discussing books .  Here is the title for January.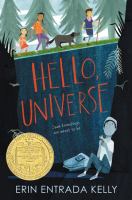 January 11th:
    HELLO, UNIVERSE by Erin Entrada Kelly
   
February 8th:
      THE FOURTEENTH GOLDFISH by Jennifer Holm