We Love cloudLibrary!
cloudLibrary, a brand new eBook and eAudiobook platform, is finally here! Library patrons at PPL and around our state are now able to download a wider range of eBooks and eAudiobooks on this new system, and we are excited to support you through the transition.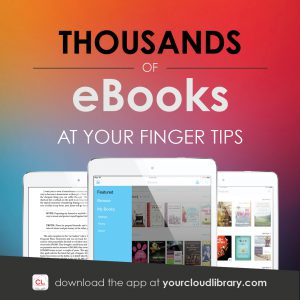 It's official…PPL patrons love cloudLibrary! The app is very user-friendly and the content is incredible. Longer borrowing times and absolutely no late fees make it a win-win.
"I found myself at the dealership with a two hour wait and nothing to do. So I decided to download the cloudLibrary app on my iPhone and within minutes I was listening to Lily King's Euphoria. It was so convenient and it completely saved my afternoon!"
-Rebecca S., PPL patron
Have you downloaded the cloudLibrary app yet? All the information you need to get started can be found on our cloudLibrary help page, including helpful tips and tricks for navigating once you have downloaded the app.
And don't forget that we are offering free pop-up help desks at all of our branch locations for anyone who would like some one-on-one tech help. We'd love to see you!
Main Library (in our New Fiction area, main floor)
Thurs., March 9, 10am-1pm
Fri., March 10, 10am-1pm
Sat., March 11, 1-4pm
Riverton
Wed., March 8, 10am-1pm
Thurs., March 9, 3-6pm
Sat., March 11, 10am-1pm
Burbank
Tues., March 7, 2-5pm
Fri., March 10, 2-5pm
Peaks Island
Tuesday, March 14
posted: , by Sarah Skawinski
tags:
About the Library
|
Library Collections
|
Online Services
|
Adults
|
Teens
|
Kids & Families
|
Seniors